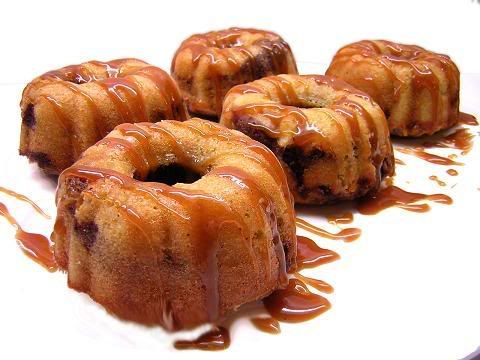 If you're sick of hearing about my recent love of Dorie Greenspan, (but really, how could you be???) then you can just go ahead and skip the first half of this post. If you scroll on down, you'll see a delicious lobster sandwich. Either way though, you're gonna have to pass by an equally delicious Black and White Banana cake which I jacked up with some Spiced Rum Butterscotch sauce, so you might as well enjoy it. The recipe called for this cake to be made in a loaf pan, but I decided to give my "mini" bundt pans another go. Last time, (and the first time) I used them, they produced
not-so-mini cinnamon cakes
. They were supposed to be cute but instead they were just big. In an effort to produce a visually appealing dessert as opposed to a comic one, I made a conscious effort not to overfill the pans this time. For the most part I succeeded. The batter was so good that I may or may not have eaten a few spoonfuls off of the top to even things out. I was debating whether it even needed to be cooked because the batter was delicious all on its own. I don't think my guests would have been too keen on raw cake batter though, so into the oven they went.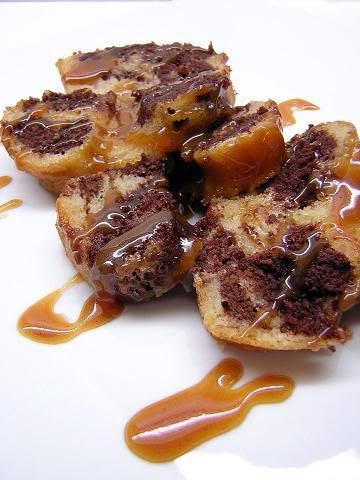 Before I even started making this cake I knew that I wanted to douse it with a Spiced Rum & Butterscotch sauce that I had been given for Christmas. I hoped the sauce would be good, but I had no idea that it would be so outstanding! It was a sauce worthy enough to serve to Dorie herself. And when I ran out of cake, I started eating the sauce with a spoon, it was just that good, (and I'm just that pathetic…). I'm sorry I can't give a recipe for the sauce, trust me, I wish I had one. I will have to set about trying to make my own rum and butterscotch sauce. But seeing as though sugar sauces are not my forte,
I would welcome a recipe from anyone who makes their own. Better yet, just send me some, that would be super.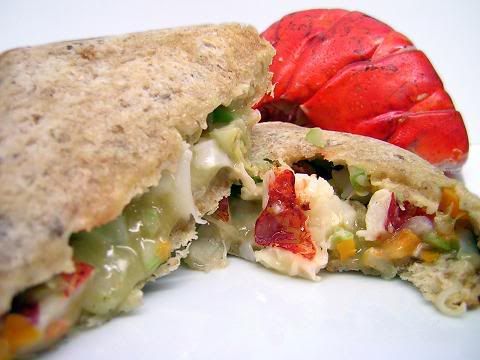 Perhaps you are asking what kind of dinner warranted a dessert such as this one? Would lobster be a good enough occasion? I think so. Lobster was on sale so we had a pre-New Years feast. Unfortunately I didn't snap any pictures of the little guys before they were nothing more than empty vessels. I did, however, save the tail of my lobster to make this incredible sandwich. Saving the tail took every ounce of willpower I had. The lobster was so sweet and succulent, I could have had 5 of them. But as everyone else dismantled and devoured their lobsters, I was consoled by the knowledge that I would be having an amazing lunch the next day and nothing that they'd be eating would compare. The lowly sandwich is elevated to new heights when filled with lobster. There is really nothing better as far as sandwiches go and I've been privileged enough to be enjoying lobster sandwiches for a long time. When I was little and we ate lobster, I never knew how to get the meat out of the body so Dad would always save mine for the following day when he would painstakingly remove all of the little bits and make a sandwich for me.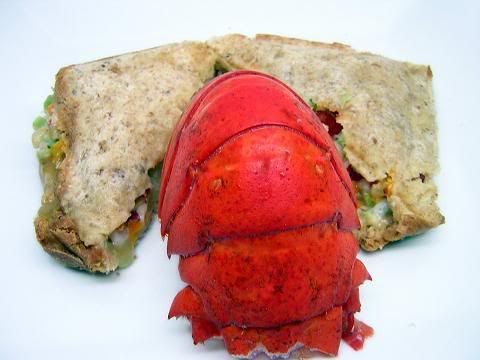 Today I made my own sandwich and it was much easier to do using the tail meat, but every bit as scrumptious. I decided to test out the new multi-plated waffle maker I bought Dad for Christmas, (ok, so maybe it was for me too) and added brie to my lobster sandwich to make a melt. I also used homemade multigrain bread and mixed some chopped celery, purple onion, orange pepper, lemon, mayo and pepper in with the lobster. I think this was the best sandwich I've ever eaten.
One other thing- who's the wise guy who posted a comment on the last post "from Dorie"? As much as I love her, I know Dorie's not reading my blog...
Happy New Year!
Technorati Tags:
Dorie Greenspan
+
Banana
+
Chocolate
+
Baking
+
Lobster
+
Sandwich