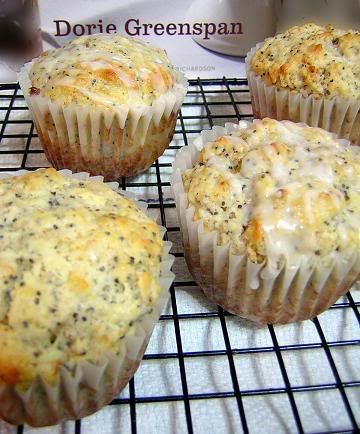 When I didn't get Dorie's book for my birthday back in November, I wasn't too impressed. I thought I had made it abundantly clear that someone should have bought it for me. At first I thought maybe someone would grace me with a belated birthday present, but that didn't happen either. I decided I would have to campaign harder for Christmas. I made Chapters-Indigo and Amazon wishlists which both contained one book and one book alone: Dorie Greenspan's Baking From My Home to Yours. I sent those lists to everyone. It's a good thing my brother was paying attention. On Christmas morning I sat happily reading my Dorie book, oblivious to what was going on around me.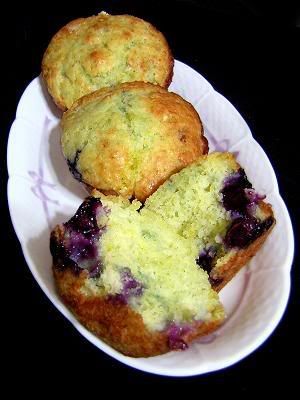 There were so many amazing recipes, and of course I'd already seen a ton of them from all of the other lucky bloggers who own this book, that I didn't know where to begin. Here's a thought: Why not start at the beginning? The first recipe was for Orange-Berry muffins. They didn't disappoint. Nice and moist and citrusy with bursts of blueberries. They were gone in less than a day and requests were coming fast and furious for more. I'm not a fan of repeats and with so many recipes to choose from, it's going to be a while before I get back to the beginning. Next up on my list to make were Great Grain Muffins and Lemon Poppy Seed Muffins. They were quite successful as well, although there will always be something special about your first. I liked the Orange-Berry ones best.
The poppy seeds muffins looked the prettiest, but the poppy seeds were suspect. I made the muffins at my Grandparents house and my Grandma wasn't sure when she had bought them. She said something about last using them to bake for a friend of hers who liked poppy seed cake. That particular friend died at least two years ago, may she rest in peace. And may she have taken her rancid poppy seeds with her… I have confidence though that these muffins would be much better with a little more lemon juice and zest, (I was using what may have been the smallest lemon in the world), and with fresh poppy seeds.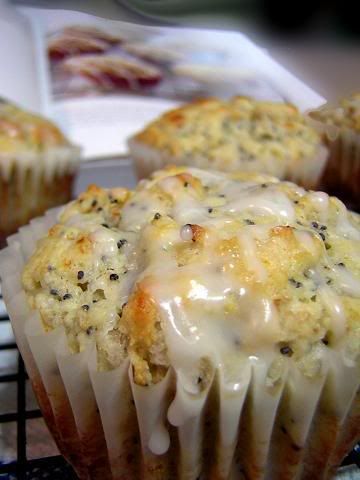 The Great Grain muffins were good in that they didn't taste whole grainish. You know when things are supposed to be good for you and they taste like it? These muffins weren't like that. They were soft and full of fruit and although they couldn't compare to my precious Orange-Berry muffins, in a pinch they would be a decent substitute. Three recipes down and I'm still studying the first chapter of the book. Dorie and I have got a long way to go but I have a feeling we're going to be very, very good friends.
Technorati Tags:
Muffins
+
Baking
+
Orange
+
Lemon