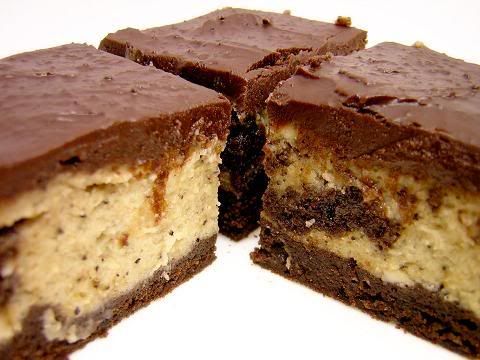 If I have children, I might have to name my first born Dorie. You'd think after the mass amounts of pre-Christmas baking I've done, that I'd be sick of baked goods for a little while. That couldn't be further from the truth. My new Dorie Greenspan cookbook has simply thrown gasoline on an already steadily burning fire. I have a strong desire to make every recipe in this book. And then to eat it all myself... And then to live in a cave underground because I will be such a whale that no one will want to look at me.
After enjoying a trio of Dorie's muffins, I moved onto brownies. As much as I wanted to continue making muffins, I also wanted to see what else this book had to offer. Blame it on A.D.D. My parents were going to some sort of soirée and Mom asked me if I could make something for them to bring along. I had also had a request from a friend for brownies so I decided to make two types, divide them up and send half with my parents and bring the other half to my friend. I settled on French Chocolate Brownies and Espresso Cheesecake Brownies.
I foolishly decided to mess with Dorie's recipe for the French Chocolate Brownies. Sacrilege! The recipe called for rum soaked raisins which I decided to omit because I wasn't sure how they would be received by my friend. I had actually been looking for a strictly chocolate brownie recipe for her, but all of Dorie's recipes are jazzed up with nuts or fruit or multiple forms of chocolate, (and not everyone's a fan of the white stuff). Instead of inquiring if my friend would enjoy any of these things in her brownies, I just went ahead and made them without. Don't worry, I've given myself a firm slap on the wrists for this violation. I've learned my lesson, I promise to never do it again. The brownies were good, but I could almost taste how much better they would be with rum and raisins. I would make these again and tell you how they were, but instead I'm challenging you to do that for me. You all have the book, right? If not, get off your butt and go get this book. Or better yet, stay on your butt and click on over to
ebay
where you can find Dorie's book for the ridiculously low price of $20. I don't know what you're waiting for. This book is worth its weight in gold! I'll believe you if you make them and tell me they're amazing.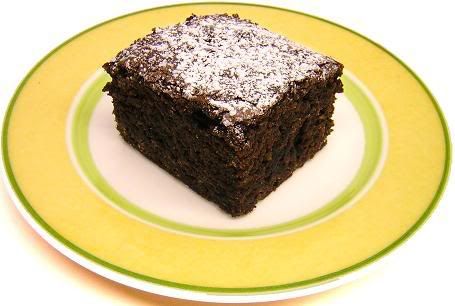 As for the Espresso Cheesecake Brownies, I'm struggling to find words that can adequately describe how amazing they were. Let's break it down into its most basic form: cheesecake + brownie = so damn good. I strayed slightly from the recipe this time, but I didn't omit any of Dorie's ingredients. She said to used bittersweet chocolate and I used half bittersweet, half dark. That's a completely acceptable substitution. Dorie said to use espresso, I used a specialty coconut coffee. Again, perfectly reasonable. Dorie told me to make a sour cream topping but I didn't have any sour cream. Not a problem, I simply substituted another Dorie icing recipe and adding more of the coconut coffee to it. I'm sure she would approve. These morsels of heaven were gobbled up very quickly. It's a good thing I was giving them away, (but not without conducting a thorough quality control test) because I wouldn't have been able to resist eating the entire pan of brownies. Sadly, I'm not really joking…
Coconut Coffee Cheesecake Brownies
, (adapted from Dorie Greenspan's Baking From My Home to Yours)
Brownies
½ cup all purpose flour
¼ tsp baking powder
Pinch of salt
5 T unsalted butter, cut into pieces
2 ounces bittersweet chococlate, chopped
2 ounces dark chocolate, chopped
1/3 cup sugar
2 eggs
1 tsp vanilla
Cheesecake
2 tsp coconut coffee
1 T boiling water
8 ounces cream cheese at room temp
2/3 cup sugar
½ tsp vanilla
2 eggs
¼ cup plain yogurt
1 T all purpose flour
Icing
(originally used for Dorie's Fresh Ginger and Chocolate Gingerbread)
3 ounces bittersweet Chocolate, chopped
1 T coconut coffee
3 T unsalted butter
3 T confectioners' sugar
Preheat over to 350F.
Brownies
Whisk together flour, baking powder and salt.
Set heatproof bowl over simmering water. Put the butter in and top with chocolate. Stir until just melted, don't let it get too hot. Remove from heat.
Whisk the sugar into the chocolate mixture. Add eggs, one at a time, beating well after each. Whisk in the vanilla and beat vigorously for a few seconds. Stir in the dry ingredients, mixing only until they disappear. Set aside.
Cheesecake
Dissolve the coffee in the boiling water, set aside to cool.
Using a stand mixer with paddle attachment, beat cream cheese on medium until smooth. Add the sugar and beat for another 3 minutes until incorporated. Beat in vanilla and coffee mixture. Add eggs, one at a time, beating for 1 minute after each addition. Then, reduce the mixer speed to low and add the yogurt, followed by the flour. The batter will be smooth.
Pour ¾ of the brownie batter into an 8" square baking pan, lined with tinfoil and greased. Smooth the layer, then pour cheesecake overtop. Dot the top of the batter with remaining brownie batter, the swirl the two together, careful not to plunge the knife too deep.
Bake 30-35 minutes or until brownies pull away from the sides of the pan and the cheesecake layer is beige in the center, lightly browned around the edges and puffed all over. Transfer the pan to a rack and cool to room temp.
When the brownies are completely cool, refrigerate for at least 2 hours or until thoroughly chilled.
Icing
In a double boiled, combine chocolate and coffee, stir until melted. Remove bowl from heat and whisk in butter until blended. Sift in the confectioners' sugar. Spread over brownies.
Technorati Tags:
Brownies
+
Baking
+
Chocolate
+
Cheesecake