The first recipe I tested for Cooks Illustrated was a
Crumb Cake
. It was good but I wasn't overly impressed. I thought it was plain, and I don't like plain. The second recipe I was asked to test was for bbq brisket, and seeing as though I don't live in the southern USA and it was in the negative digits outside when I got the recipe I didn't feel like it was something I really wanted to delve into. Then along came a third recipe to test: Gyros. Well sign me up! In the recipe it said to use store bought pitas since they were aiming to make this a meal that could be accomplished in less than an hour. I chose to kill two birds with one stone and make my own pita. This wasn't entirely by choice. Quite some time ago, a friend had requested I make homemade pitas. He wasn't even going to be the recipient of the pitas. He just wanted me to make them, (I presume) so that he could live vicariously through me. He
claims
to cook, but I don't believe it. In any case, off I went, in search of a pita recipe. I looked at two possibilities; one looked fairly authentic and the other looked easy. I went with the easy one. Give me a break, I've been fighting with gingerbread all day long, (more on that in a post coming soon, in the meantime, I continue to curse gingerbread). And so, with my easy pita recipe in one hand and the gyro recipe in the other, I set to work.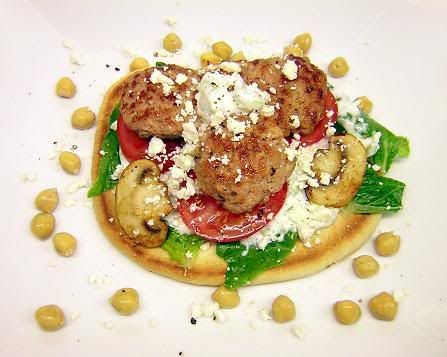 The gyros called for ground lamb. I don't think I've ever actually seen ground lamb at the grocery store. There's typically legs of lamb, but rarely ground. Friends of ours raise sheep, (they have a wool company) so I used to get lamb from them all the time. Unfortunately, I haven't gotten any lamb from them in a while, I should look into that one. Anyways, not to worry, I bought a lamb flank and ground it myself. I'm resourceful like that. Other than that there were no major problems, I made a couple changes to the CI recipe, but for the most part kept it the same and thoroughly enjoyed it. I even made some extra lamb patties to put in the freezer for a quick lunch someday. As for my easy pita, it was ok, but it didn't puff. I guess I've failed the pita request and will have to try again with the better recipe. They weren't bad by any means, and served as a nice base for my rather deconstructed gyros, but they could have been better.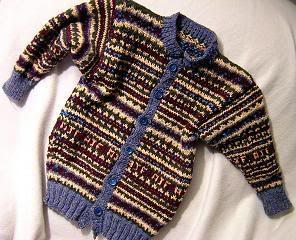 I'm aware that the last picture has nothing to do with food, but watch me tie this whole thing together: Remember how I said I had friends who raise sheep? And how I said they raise sheep because they have a wool company? Well, the wool that was used to make this sweater is from those friends. And although the sweater is not edible like most pics you see on my blog, I made it, which
is
like most things. It's the Baby Genius' Christmas present, he'll grow into it. See how I've wrapped this all up and tied it with a neat little bow? I'm now sitting here smiling quite smugly.
Technorati Tags:
Gyros
+
Cooks Illustrated
+
Lamb