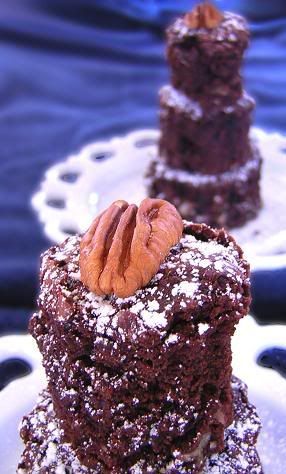 During one of my random recipe searches I came across a recipe for "
The Ultimate Brownie
." I know what you're thinking, and I was thinking it too: Yeah right. I've seen countless recipes for The Best Brownie EVER, The Perfect Brownie, The Last Brownie You'll Ever Eat, etc… There's always someone who thinks they have the be all and end all recipe for brownies, (this also applies to chocolate chip cookies, pie crust, lasagna… everything) but I find most of the time their recipe will disappoint, because no matter how good it is, I can't help but hope that there's something even better. What fun would it be to think that I've tasted the best? I might as well roll over and die if that's the case. Anyways, I filed that recipe away, figuring I might give it a try at some point, as it will probably produce a brownie that is at least edible, (and who am I kidding? Even if it wasn't, I'd probably eat it.) For some reason I kept coming back to this recipe, but each time I shied away from making it. Maybe it was the fact that it called for SEVEN eggs. Maybe it was because it called for THREE cups of sugar. It could have been the POUND of walnuts. And it could have been the fact that all of this was to be baked into a measly 9x9 pan. Finally, I sucked it up and set about making "The Ultimate Brownie" despite the fact that I found the whole recipe rather suspect.
Even though I had my qualms about both the ingredients and the directions, I persevered. Even though I worried that mixing eggs into hot sugar would scramble them, I persevered. Even though I emptied my supply of organic cocoa into these brownies, I persevered. And even though I had no walnuts and not quite a pound of pecans, I persevered. But I drew the line when I came time to pour that vat of brownie batter into a 9x9 pan. There was NO freaking way that was going to fit. Unless I had a 9x9 pan with sides that are 6 inches high, that batter would have ended up all over the bottom of the oven, and God knows there's enough crap down there already. Instead, the batter went into a 9x13 pan and I held my head high as I poured it in. It was for the good of the brownies, (and my oven).
Now then, I went about setting the oven timer and was still thinking rather highly of myself as I had the good sense to reduce the recommended oven time since my brownies would obviously me slightly thinner than they would have been in their crazy high 9x9 pan. I patted myself on the back and went to sit down and relax and wait for my precious brownies to be done. A couple minutes later, Dad called me to help him move a dresser upstairs. No problem. We lugged the dresser upstairs and that was the end of it. But then I passed by my bedroom and happened to glance inside. Yeesh, what exploded in there? And in a moment of what can only be called sheer insanity, I decided to clean my room. So time passed and I worked away, unpacking bags that have sat on my floor for months, making my bed which generally isn't ever made, doing laundry. I even vacuumed and dusted. I found things I thought had been lost forever. I was in a pretty good mood. Then, all of a sudden I caught a whiff of chocolate.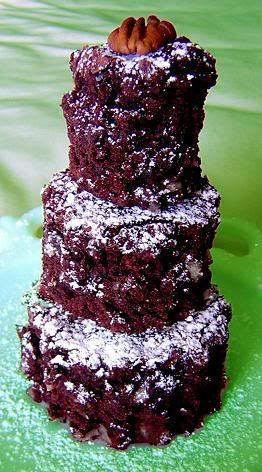 AAAAHHHHHHHHHH!!! How long had I been up here and how could I possibly have forgotten the brownies??? I raced downstairs, taking them two at a time, tearing through the house, scaring the cat half to death and skidding into the kitchen at breakneck speed. I threw open the oven door, reached in to pull out the pan, had a brief moment of clarity and grabbed a dish towel, and then removed my poor brownies to a cooling rack. I stared at them. They stared at me. I glanced over at the recipe which was sitting on the counter. In giant letters at the bottom of the recipe were the words DO NOT OVERBAKE. I looked at the oven timer which had long since expired. Exactly how much longer the brownies had been in, I had no way of telling. I poked at the top of them. Hot. I took out a toothpick and stuck it in the middle. I was somewhat reassured to see that it wasn't completely bone dry when I removed it. But my heart was already feeling heavy and I knew I had wasted a ridiculous amount of ingredients on brownies that I couldn't pass off as anything other than "The Ultimate Disaster." Why did I pick today to clean my room? I never clean my room. It's a constant disaster and should have continued to be that way so that my brownies could have stood a chance at being good. I should have known better. It was basic high school physics at work: Disaster cannot be created nor destroyed, it can only change forms. Disaster simply moved from my bedroom to the brownies. Science wins again.
Technorati Tags:
Baking
+
Brownies
+
Recipe
+
Chocolate