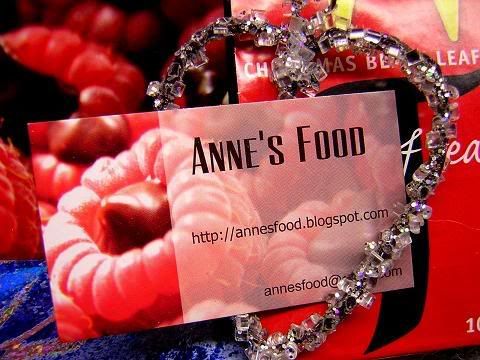 I don't even know where to begin. I got a package in the mail today from Anne of
Anne's Food
and it fulfills my
love
of food, presents and food related presents. I was ecstatic this afternoon when Dad informed me that I got a package from someone named Anne. Immediately I replied "I hope it's from Sweden!" Best of all, it was. Anne is always showcasing wonderful goodies like
Cheese Pierogi
,
Lingonberry Toffee
and
Chocolate Truffle Cake
just to name a few and I'm beyond thrilled to receive a package from her as part of Blogging By Mail, hosted by Stephanie of
Dispensing Happiness
. And how cool is it that Anne has her own cards made up with pictures from her blog? Very cool.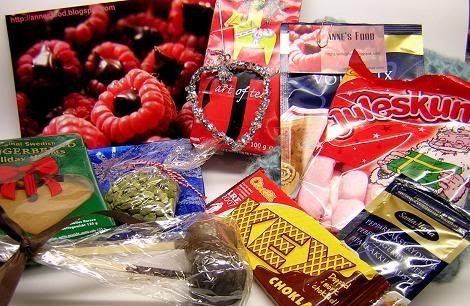 My package was carefully wrapped and obviously much thought had been put into packing the following goodies: gingerbread hearts, a Kex chocolate bar, cardamom seeds, gingerbread spices, (which Anne has used to make toffee, and which I will soon be using to make toffee!) a spice mix for Christmas bread, (ha! That means more bread posts are imminent, the only problem is that the directions are Swedish, minor detail) foamy Santas, (Juleskum, for those in the know) spiced tea, two truffles, (which are already gone and were very tasty) and a beautiful handmade scarf to keep me warm!
I recently read a post by Bron of
Bron Marshall: Classic & Creative Cuisine
, entitled "Food Blogging Friends are the Bee's Knees!" and I really couldn't agree more. Seriously, Anne knit me a scarf and gave me ingredients to fuel my bread making, that's awesome. It's like Christmas has come early. So thank you a whole bunch Anne, you really made my day! For anyone who hasn't read
Anne's blog
, I don't know what you're waiting for, get over there.
Technorati Tags:
Food
+
Blogging By Mail
+
Sweden
+
Blogging Event