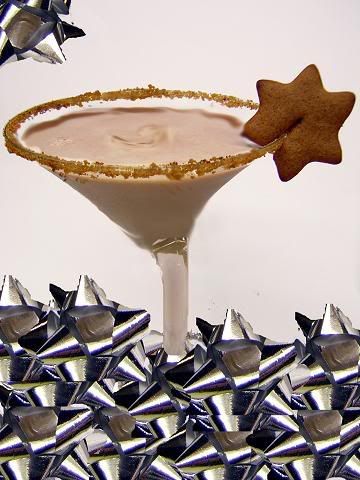 Hollywood parties are full of glitz, glam, celebrities… liquor. There's designer outfits, salon styled hair, outrageous jewelery… liquor. People are talking, eating, drinking… liquor. Sometimes all of this excitement is just too much and leads to things like pantyless pictures and nonsensical ramblings on The View. But the people to whom these tragedies occur are usually such respectable individuals, what could possibly be the cause of their downfall? I would wager that a Bailey's Toboggan helped them slide down that slippery slope.
Stephanie, of
Dispensing Happiness
is hosting Blog Party #17, with the Hollywood theme of "Lights, Camera, Action." Typically Stephanie's parties require a finger food and a drink, but given the Hollywood theme and the propensity of celebrities to consume more than their share of beverages, I thought I'd just go with a liquid dinner. I looked around my kitchen for inspiration but all I saw were cookies. Lots and lots of cookies. There were gingerbread cookies, sugar cookies, linzer cookies, chocolate-chocolate cookies, cookies everywhere! But I couldn't put them into a drink, or could I? From the oven to the glass, the Bailey's Toboggan was born. Appropriately named because after one or two of these, it's all downhill from there…
Bailey's Toboggan
1 ½ ounces Baileys
1 ounce Spiced rum
1 ½ ounces chocolate milk
Gingerbread crumbs
Gingerbread garnish
Chill a martini glass, then rim it with crushed gingerbread cookies. In a shaker, combine ice, Baileys, rum and chocolate milk. Shake and strain into the martini glass. Garnish with a gingerbread cookie. Consume with caution.
Technorati Tags:
Drink
+
Gingerbread
+
Blogging Event
+
Rum