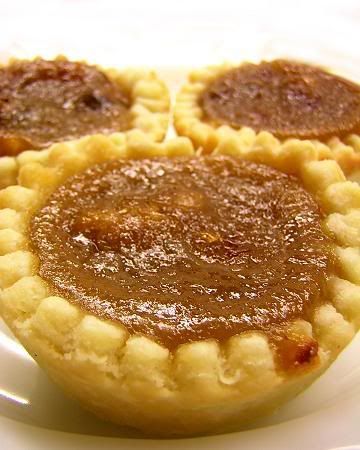 I've got two types of tarts for you today, and no, I'm not one of them. Allow me to present the wondrous butter tart (applause heard all around) and the lowly mincemeat tart, (booo, hiss!). I had request for both of them and that's the only reason a mincemeat tart was produced in my kitchen. Honestly, who eats this stuff and actually likes it? As far as I can tell, it's like a fruit cake threw up in a tart shell and they called it mincemeat. Bleh. None for me thanks. If I'm going to be intaking calories, they'd better be good, like the ones found in chocolate, caramel, maple syrup and butter.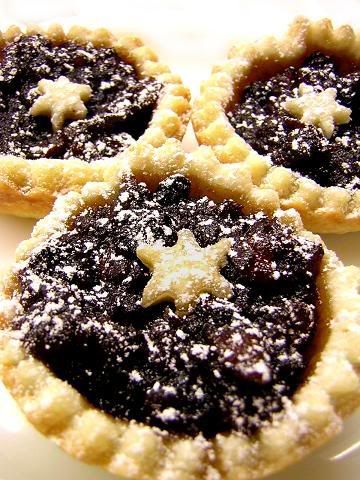 I was happy with the way the butter tarts turned out, (if you've been paying any attention, you'll know that's because butter is an acceptable source of calories) they were super good right out of the oven, nice and warm and gooey. The recipe was courtesy of
Joy of Baking
, which I always seem to forget about for a while and then rediscover some time later. That site always has pretty pictures to accompany their recipes. As for the mincemeat, which isn't even worthy enough to call itself a tart, I used the same pastry shell and then just threw in some store bought mincemeat. There was no way I was going through the trouble of actually making mincemeat for a measly two dozen tarts.

Now then, the biggest problem I have with mincemeat, (other than the taste) is that it's a wolf in sheep's clothing. I hate to say it, but mincemeat tarts are fairly nice looking, what with their little star tops and dusting of icing sugar. It's easy to get suckered in by looks and then fall victim to the awful taste of mincemeat. It seems like every year I unknowingly pick up a mincemeat tart because of how pretty it looks and how tasty it therefore must be. And every year I'm horrified to find out I've just taken a big bite of mincemeat and rush to rinse the taste out of my mouth with whatever happens to be closest; wine, gravy, cranberry sauce, it's all good so long as it's not mincemeat. However, since I'd like to think of my blog as educational, I believe we can all learn a valuable lesson from my misfortune:
it's what's on the inside that counts.
The pretty tart is poison, she's nothing but trouble. Choose the plain tart, she'll take good care of you. Looks fade, taste is forever.
Technorati Tags:
Food
+
Tarts
+
Baking