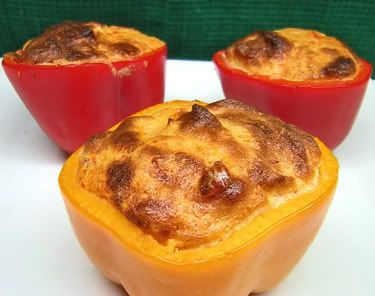 They look kinda cool, but didn't turn out as well as I would have hoped. This round of Hay Hay it's Donna Day, is being hosted by Tami of Running with Tweezers, (again! That Tami i s crafty) and she chose a theme that strikes fear into the heart of many homecooks- soufflés. I've only ever made soufflé once before, but it was a huge success so I didn't think I should have any trouble. Obviously, my one success meant that I was a pro. As such, I was trying to think of a different way to do soufflé. If I was going to do something fancy, I probably should have had a recipe. Well I did, sort of. I based my creation loosely on a Roast Red Pepper Souffle recipe that I found online after googling pepper souffle. The recipe I found is supposed to be made in ramekins and it's supposed to be made by following the directions. I did neither of those things. I decided to roast the tops of my peppers and use the bottoms for ramekins. And I sort of skipped over the beginning of the recipe because it seemed like it took too long and I already had chicken started which couldn't wait. Using the red peppers as ramekins looked pretty, but the peppers themselves didn't cook at the same rate as the soufflés. This is alright if you don't mind slightly crunchy peppers, but I wasn't overly impressed. Roasting the peppers first would have been tastier, but they then couldn't have held my soufflés so I guess it was a trade off. The chicken was good, I used some leftover pureed roast pepper in the sauce for it, but that's neither here nor there.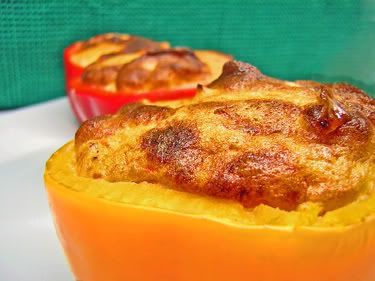 Unfortunately my Chocolate Coconut soufflés didn't turn out as well as I had hoped either, (made on a different night). This may have been in part due to the fact that they were the dessert that followed my favourite dinner of late. Or maybe it was because I used too many eggs yolks, not enough egg whites and I underwhipped the egg whites and overbaked the soufflés. It's hard to do that many things wrong, but I did it with gusto. I'm including the recipe because I'm fairly certain that if I were actually to have followed it, my souffles would have turned out quite nicely. I began to stray from the recipe right off the bat. I wasn't paying attention while I was separating my eggs and when I got to the fourth one, I cracked it too hard against the bowl and broke the yolk. To save the whites from getting any yolk in them, I basically tossed the whole eggs into the bowl with the yolks. This meant that instead of having three yolks beaten together, I had four and some egg white. And instead of whipping four egg whites, I only had three. Come to think of it, I could have just gotten another egg out of the fridge, or scooped out some of the yolk, but I didn't think of those obvious solutions at the time. Then, while I was whipping my egg whites with a hand beater, it broke. All of a sudden the normal whirring of the motor turned into a rat-a-tat-tat machine gun sound, scarring me half to death. I was afraid the beaters were going to shoot right out of the bowl. Once again, the logical thing to do here would have been to continue whipping the whites with Wilbur, but I didn't think of that. I broke out the hand whisk and went to work.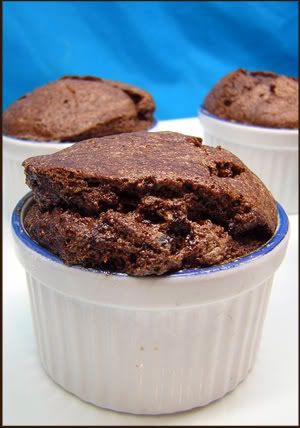 Apparently I'm a huge wimp because I thought my arm was going to fall off and the egg whites still weren't as whipped as they should have been. Again, I just powered on through, spooning the goo into my four prepared ramekins. And then I had to prepare four more ramekins because it would seem that I have the tiniest ramekins ever. Once again, if I had of stopped for two seconds to think about what I was doing, I wouldn't have left my soufflés in the oven for the full baking time because I was fully aware that they were half the size they should have been and would therefore bake much faster. I didn't think of that. My soufflés were dry and didn't puff as high as they should have. They probably could have been slightly saved by a heap of chocolate sauce, but I didn't have any. Then my brain started functioning a little bit and I recalled Ellie's post about soufflé making, where she froze the soufflés as soon as they came out of the oven. Since I had 8 of them, I put half in the freezer. I actually liked them better the second day, but they still weren't great.
Chocolate with a Hint of Coconut Souffle (Adapted from Stephen Cooks)
Makes 4 fairly large individual souffles
3 oz unsweetened chocolate
3 T double strength brewed coconut coffee
1 T rum
3 egg yolks, beaten lightly
4 egg whites
¼ cup sugar + 2T
Powdered sugar to dust ramekins
Preheat oven to 400º.
Butter four ramekins and dust with powdered sugar.
Heat chocolate, 1/4 cup sugar, coffee and rum over low heat, stirring, until smooth.
Off heat, stir in the egg yolks and beat a few strokes.
In another bowl, beat egg whites until medium peaks form, gradually adding the remaining sugar to the whites. Fold chocolate mixture into the beaten egg whites and spoon into the ramekins.
Bake 'till puffed, about 10 - 12 minutes.
Technorati Tags: