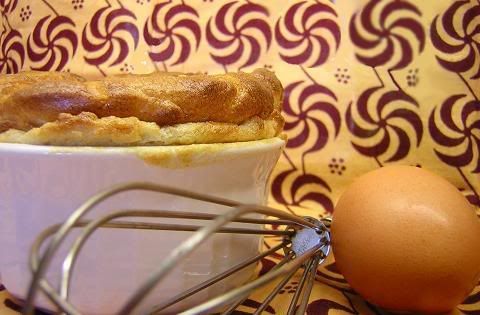 Since I've got an abundance of squash in my garden, (or rather my fruit cellar as I had to rescue them before they were hit by frost) I've been making butternut squash soup every week. Recently Artizen Flair of
artizenkitschen
had a post about an amazing
Garam Masala Pumpkin
soup that was so good it left her neighbours begging her to make some for them. With a review like that, I knew what I would be doing for my weekly squash soup, in went the garam masasla. I loved it! Garam masala is a spice that I seem to have lost touch with, but no worries, we're together again. A little info for those of you who may not be so close with my new friend: Garam masala is a blend of ground spices common in Indian cuisine, whose literal meaning is 'hot (or warm) spice'. There are many variants: most traditional mixes use just cinnamon, roasted cumin, cloves, nutmeg (and/or mace) and green cardamom seed or black cardamom pods. Many commercial mixtures may include more of other less expensive spices and may contain dried red chili peppers, dried garlic, ginger powder, sesame, mustard seeds, turmeric, coriander, bay leaves, cumin, and fennel. Garam masala can be used during cooking, but unlike many spices, it is often added at the end of cooking, so that the full aroma is not lost. Garam masala is not "hot" in the sense that chilis are, but is fairly pungent. Thank you
Wikipedia
.
Now then,
Habeas Brûlée
is hosting the 8th round of The Spice is Right event, originally started by Barbara of
Tigers and Strawberries
. This month the theme is Frankenstein's Monster which means we're being asked to make a dish using a spice (or blend of spices) with a technique or dish from a cuisine that typically never uses that spice (or blend). Well the wheels started turning in my brain, (squeaky yes, but they were turning) and I knew that this would be a perfect opportunity to incorporate garam masala into something. For quite some time now I've wanted to make a soufflé. Be it savoury or sweet, I didn't really care, I just wanted to make a soufflé because they look pretty cool and I've never made one. I don't know why I haven't made one already, but maybe I was waiting for an opportunity like this one to come along. Don't mistake this creation lag for laziness; I'm like a tiger waiting to pounce at just the right moment. When the prey was spotted I went in for the kill. I would make a garam masala soufflé. Oooh the genius of it all!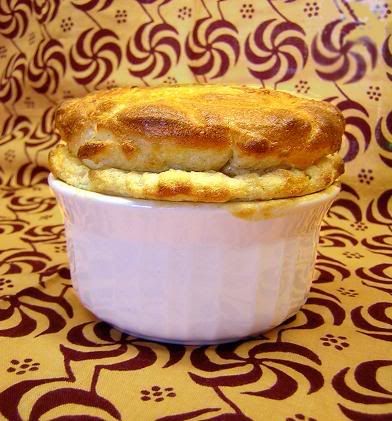 I wasn't sure how this would turn out, but I knew I would like it regardless because I was dumping in a whole lot of garam masala. With that in mind I opted to make myself an individual portion using a recipe for a cheese soufflé from an old Canadian Living Cookbook. I followed their recipe exactly (except I cut it to one serving size) and then added my garam masala. I was thrilled with the results! In fact, I'm not going to lie, I was a little giddy when I saw my soufflé rising up to almost twice the size of the ramekin that was attempting to contain it. But I have heard many stories of falling soufflés and was nervous about taking it out of the oven. As soon as I did I reached for the camera right away and tried to capture the soufflé in its full glory, but I don't think I quite did, (notice the second picture is higher than the first, but still not as high as it was). My soufflé fell, but no so far as to be un-souffléed, (it's a word, I say so). The Canadian Living Cookbook tells me to expect my soufflé to fall, and they recommend seating dinner party guests before the soufflés are finished so that they receive them before the harsh world outside of the oven starts the deflating process. I was impressed with my soufflés either way and since garam masala is not a traditional spice used in soufflés, there you have my creation for Frankenstein's Monster.
Masalalicious Cheese Soufflé
(Adapted from "Rose Murray's Cheese Soufflé in The Canadian Living Cookbook)
¾ T butter
¾ T all purpose flour
¼ cup hot milk
1 egg yolk
2 egg whites
¼ tsp cream of tartar
¼ cup grated cheddar cheese
Salt + pepper
Garam masala, the more the better… I probably put in a couple teaspoons, I didn't measure.
A sprinkle of cayenne
Preheat oven to 400°F and grease one ramekin.
Melt butter over medium heat in saucepan. Add flour and cook, stirring over low heat for 1-2 minutes. Do not brown. Remove from heat and gradually pour in hot milk, whisking vigorously until blended and smooth.
Whisk in spices. Return to heat and boil, whisking constantly until smooth and thickened. Let simmer for 1 minute, remove from heat and beat in egg yolk, whisking thoroughly. Set aside.
Beat egg whites until foamy and then add cream of tartar. Continue beating until stiff but not dry. Stir large spoonfuls of beaten egg whites into the sauce to light it, stir in all but 1 T of cheese. With spatula, lightly fold in remaining egg whites, do not overfold.
Spoon mixture into your ramekin, smooth the surface and sprinkle remaining cheese on top.
Place in preheated oven and reduce heart to 375°F. Bake for about 22 minutes and don't open the door before 20 min. When finished it should be golden brown on top and a knife inserted in side of puff should come out clean. Makes 1 serving.
Technorati Tags:
Baking
+
Souffle
+
Garam Masala
+
The Spice Is Right
+
Blogging Event