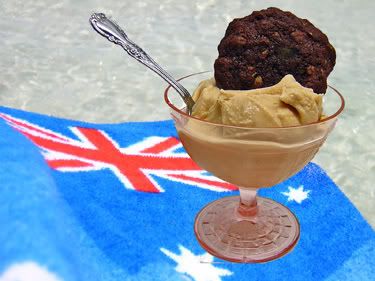 I don't care how much snow there is outside. As far as I'm concerned, it's Australia Day and that means it's warm and nice and I should be on the beach at Byron Bay, eating ice cream. Two years ago today, that's where I was and that's where I'd like to be right now. Unfortunately that's not an option, so instead I made ice cream to drown my tears in. I actually made ice cream yesterday as well. It was Dad's birthday so I made him his regular, angel food cake, from scratch, with chocolate whipped cream. That meant I had a whole lot of egg yolks leftover that needed using up. I was undecided on what to make with them but was feeling as though something was missing in my life, but I couldn't quite figure out what it was. Then it hit me: I hadn't made a Dorie recipe in over a week. The horror! (I'm not actually joking here…) But I knew that there were ice cream recipes in Baking: From My Home to Yours, and I knew that ice cream required egg yolks. It doesn't take a rocket scientist to figure out what happened next. Since Dad's a big chocolate fan I opted for the Chocolate Ganache ice cream. Yes, you read that correctly, a ganache ice cream! I'd actually never made ice cream using egg yolks before, (usually mine was just mass amounts of cream) but I was confident that with Dorie behind me, everything would be ok. But why make things easy on myself? I decided to make the Chocolate Ganache ice cream at the same time as I worked on a top secret kitchen project that will be revealed January 30th. Since it's top secret, I can't tell you anything else right now, but suffice to say that it's a project that required my undivided attention and I shouldn't have been making ice cream at the same time. But despite my difficulties in multi-tasking, this was the best ice cream I've ever made, and possibly one of the best ice creams I've ever tasted. And that's saying a lot. I used to work in an ice cream store that served over 35 flavours… This ganache ice cream was smooth and creamy and wonderfully chocolaty.

You are perhaps looking at the first picture and noticing that it doesn't look very chocolaty. That's because it's not, it's Burnt Sugar ice cream. Everyone ate all of the chocolate last night with the angel food cake. I was sure I'd have some leftover for Australia Day, but noooooo, they licked the bowl clean. I suppose I should be flattered by that, but somehow I'm more annoyed that that I don't have any super tasty ice cream leftover. I guess I can't be too annoyed with them because it running out of the chocolate ice cream meant that I got to make another batch, and try out another Dorie recipe. This time I went for the Burnt Sugar ice cream, (you could also call it caramel). But why stop there? I went on to make Dorie's Chocolate Oatmeal Drop cookies as well. They look pretty on the side of the ice cream but they're even better when they're broken into pieces and mixed in. Mmmm cookies and ice cream. Although the Chocolate Ganache ice cream was better, I still thought this was a worthy contribution to the celebration of Australia Day. I just wish I was actually there.
For those of you who have not experienced Australia, you're missing out. But allow me to tell you a few of the reasons I love Australia:
1- I don't think I need to state this, but their accents are pretty freaking cool.
2- They have Tim Tams.
3- They have the best sand for playing beach volleyball in.
4- Despite the fact that English is the primary language, you wouldn't always know it… Aussies love to vary words and use short forms. Only an Aussie could manage to make the lowly blood sucking mosquito sound appealing by calling it a mossie. Bikkies are cookies, a bottle-o is a liquor store, an esky is a cooler, university is uni and if someone tells you they'll see you this arvo, it means this afternoon. I could go on forever. I love it.
5- They embrace the concept of "Go big or go home" with countless 'Big' roadside attractions such as the Big Banana, Big Prawn and Big Pineapple just to name a few. Oh and they've got that reef that's big, and that rock too.
6- Australia has all of the world's top 10 deadliest snakes and is home to a variety of other deadly critters. Even the cute little platypus is venomous.
7- They have the best place names like Indooroopilly, Wollongong and Gympie, (and those are the normal ones).
8- It's warm.
9- The people are fun.
10- Aussie! Aussie! Aussie! Oi! Oi! Oi!
Technorati Tags:
Australia + Ice Cream + Chocolate + Dorie Greenspan + Cookies + Caramel