Last week I cooked dinner for
Parent-Teacher Interview
night. Among the desserts that I prepared were Baklava Muffins and Roxanne's Millionaire's Shortbread, both from Nigella Lawson's How To Be A Domestic Goddess. Obviously both were edible, they're sugary baked goods, how could they not be? But both of them were flawed.
In the case of the Baklava Muffins, they had a filling which consisted of butter, sugar, cinnamon and walnuts which was also supposed to be sprinkled on the top of the muffin. That was all well and good, except that it ended up on the bottom of the muffin cup, even the 'topping' sunk to the bottom. The muffins were tasty enough, but a pain to eat. The top half of the muffin was light and cakey but underneath was a non-cohesive mass of sugary-nutty filling that had to be picked out of the muffin cup. It just wasn't a solidly constructed muffin. And as for the taste; it was good, but the name was misleading. I would have more likely called them Walnut-Honey Muffins as opposed to Baklava Muffins. You can't recreate baklava in muffin form, or at least Nigella can't.
As for Roxanne's Millionaire's Shortbread, the shortbread base was good, but I had problems with the subsequent layers. I thought this caramel layer would be easy for me, it was just condensed milk, syrup and butter mixed together in the microwave. I didn't have to use a thermometer to determine just the right amount of heat so it seemed easy, mix and done. Not so much. I used as big a bowl as I could reasonably fit in my microwave and this stuff repeatedly boiled over, making a lovely mess. I lowered the heat and kept whisking, trying to achieve that light golden brown colour Nigella told me about. I got to the point of what seemed like the right colour, but the texture was weird. I hoped that maybe when it cooled it would be alright. That problem never resolved itself and the caramel layer was somewhat grainy. The top layer was just chocolate, it should have been fine. This recipe calls for a ridiculous 12 ounces of chocolate. I (surprisingly) reduced the amount of chocolate and that was probably for the better as these bars are very difficult to cut. The chocolate solidified into a thick layer that resisted being cut through. Often it would crack and straight lines were few and far between. And while I was trying to hack my way through the chocolate layer, the caramel decided to ooze out the sides. Once again, I'm not saying they weren't good, they got eaten, but they definitely didn't reach the level I thought they should have.
And now that I've had some time to think about the outcome of my baking, I've got a bone to pick with Nigella "The Domestic Goddess" Lawson. I feel like she's purposefully leading me astray. She smiles pretty and tells everyone they can be a Domestic Goddess but she doesn't mean it. She's not unlike a certain
sister
of mine, wanting everything for herself. But in this case instead of sticking me with the wonky Santa while she keeps the good one, she sticks me with the wonky baking while she showcases her masterpieces. I don't know how I got on the Nigella bandwagon, I've never really even watched her show. I guess I just got sucked in with the pretty pictures and promises of becoming a Domestic Goddess. And that's the way she wants it- for everyone to think they can be just like her but for no one to actually be able to achieve it. Because then she wouldn't be special. If everyone had the title 'Domestic Goddess' it wouldn't be nearly as impressive. For example, if I introduced myself as 'Domestic Goddess Brilynn,' I'd most likely get a response like: "Pffft, you're a Goddess? Who cares? So am I." It's as a result of this that I've come to the conclusion that Nigella bakes with one recipe, but publishes another. When Nigella bakes, her Baklava Muffins are probably an exact replica of baklava, but in muffin form. Mine are doppelgangers. They might resemble the original, but you know there's something not quite right with them. Bringing you back to the Santa's, mine was obviously the doppelganger. You knew he was a Santa, but what was up with him? With all the similarities between Nigella and the Sister, it leads me to ask the question….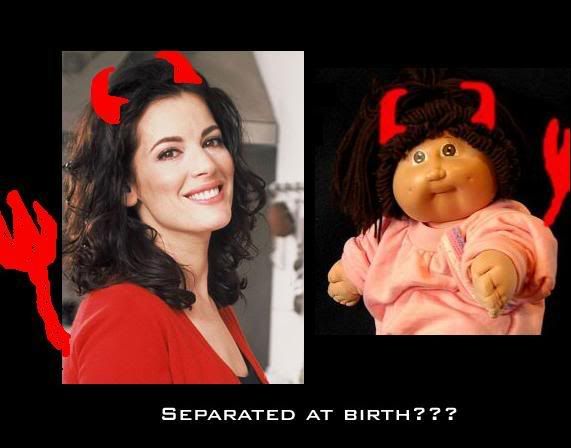 The likeness between the two is creepy. Very creepy… (Cue Twilight Zone music.)
Here are the recipes if you'd like to give them a shot. If you're good at tweaking and modifying recipes these could be a challenge for you.
Nigella's Baklava Muffins
Filling
1/2 cup walnuts, chopped
1/3 cup sugar
1 1/2 teaspoons cinnamon
3 tablespoons butter, melted
Muffins
1 cup flour + 7 tablespoons flour
2 teaspoons baking powder
1/2 teaspoon baking soda
1/4 cup sugar
1 large egg
3 tablespoons unsalted butter, melted
1 cup buttermilk + 2 tablespoons buttermilk
Topping
1/2 cup honey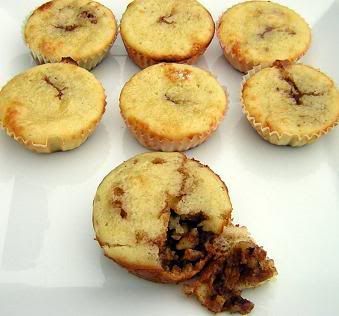 Preheat oven to 400F degrees. Mix all the filling ingredients together in a small bowl, set aside.
In a large bowl, mix together the flour, baking powder, baking soda and sugar. Mix the egg, melted butter and buttermilk.
Make a well in the dry ingredients and add gently mix in the wet ingredients.
Fill 12 muffin cups 1/3 full, add a scant tablespoon of filling, cover with more muffin mixture until 2/3 full. Sprinkle any remaining filling on top of the muffins. Bake for 15 minutes.
Put the muffins onto a rack to cool and drizzle with honey (it may be easier to drizzle the honey if it has been warmed first).
Roxanne's Millionaire's Shortbread
1 1/3 cups all purpose flour
¼ cup sugar
1 2/3 cups unsalted butter
14 ounce can sweetened condensed milk
4 tablespoons light corn syrup
12 ounces bittersweet chocolate
1 9inch square pan or similar, greased and the bottom lined with parchment or wax paper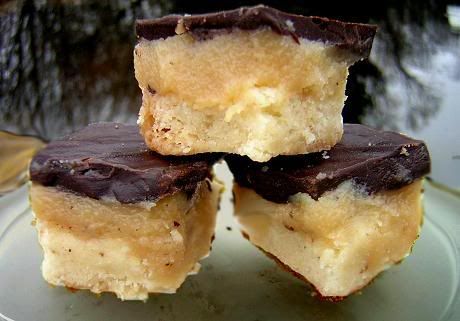 Preheat oven to 325F.
Put the flour and sugar into a bowl and rub in 12 tablespoons of the butter, clumping the dough together to form a ball. Press this sandy shortbread mixture into the pan and smooth it with either your hands or a spatula. Prick it with a fork and cook for 5 min, then lower the oven to 300F, and cook for a further 30-40min until it is a pale golden and no longer doughy. Let it cool in the pan.
Melt the remaining butter in the microwave (in a large microwavable bowl) for 2-3 min, then add the condensed milk and syrup. Whisk the mixture well until the butter is thoroughly incorporated. It's ready when it's thickened and turned a light golden brown. Pour this molten toffee evenly over the cooled shortbread and leave it to set.
Break the chocolate into pieces and melt it in the microwave. Pour and spread it over the fudge mixture (the less you touch it the shinier it will be) and leave to cool. Once set, cut the caramel shortbread into pieces. The squares can be stored in the fridge to keep them firm, though if it's winter that shouldn't be necessary.
Makes about 24.
Technorati Tags:
Baking
+
Domestic Goddess
+
Nigella Lawson
+
Chocolate
+
Recipe
+
Muffins