While browsing other food blogs, I often file away the recipes I like into my "to do" pile. That would be the same "to do" pile that houses the recipes I get from my monthly subscriptions to Bon Appetit and Fine Cooking magazines, as well as those bookmarked in my stack of cookbooks and random
Epicurious
searches. It's a big pile. I don't think there's enough time to ever make it through everything, and yet I continue to add to it. Recently I've stolen a couple recipes from Scott at
Real Epicurean
. That's not to say I've made any of those recipes, most of them, like the
Naan bread
recipe I liked so much but didn't make, are now hidden deep in the "to do" pile. Scott's latest post was for
Polish Pierniki
and they looked perfect. When I first saw the picture I didn't think they could possibly have been homemade. I copied the recipe and you know where it went. Apparently I was destined to actually make this one though. Mom's work is doing Secret Santas and she wanted me to make something for her person. And that's when I realized that I was actually going to take something out of the pile, making it (imperceptibly) smaller.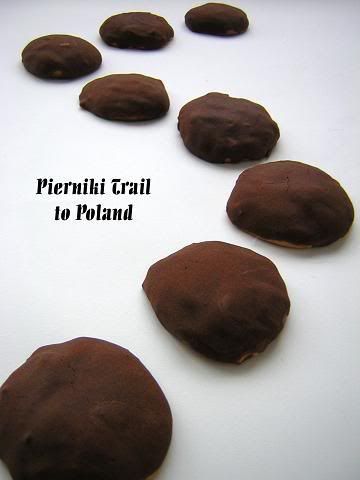 Prior to seeing the Pierniki at Real Epicurean I had never seen or heard of it before, but it just looked good. Scott had also said you could cut the cookies into whatever shape you wanted, and I'm a fan of cutting things into fun shapes. Unfortunately, my ineptitude with baked goods prevented me from being able to make these into anything other than blobs. I probably should have chilled my dough as it ended up too liquidy to be able to roll, but I'm impatient. Instead, I got the brilliant idea that I would put it in a pastry bag and pipe it into neat spirals. Of course, I don't actually have pastry bags so I used an empty bread bag. Leave it to me to pick a bag with a weird bottom. The hole that I cut ended up being almost 2 inches across so the dough glopped out haphazardly, completely ignoring any style I might have been trying to give it. It was also not liquidy enough to be piped so a lot of it stuck to the inside of the bag and wouldn't budge. I got very sticky. Despite my best efforts at failure, the dough baked up pretty nicely and smoothed itself out. I didn't even have too much trouble dipped the cookies in chocolate. Granted, my technique is sub par and the cookies are totally covered, but the job got done. And they taste good too! They're nice and sweet, (but not overpoweringly so) and chewy with a little spice. I used some great Australian honey in the cookies that was given to me by
Ellie
in the last Blogging By Mail. So they were Polish Piernikis with a little help from Australia. Pierniki: the cookie that unites nations. Smacznego!
Technorati Tags:
Baking
+
Cookies
+
Recipe