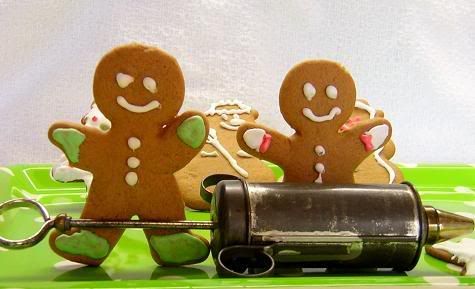 Weekend Cookbook Challenge #10 is being hosted by Mary at
The Sour Dough
and she chose the theme of using a neglected gadget/appliance in your kitchen. Surprisingly I had a hard time coming up with a gadget that was neglected. Sadly, the reason for that is that I really don't have that many gadgets. I'd like to believe none of them would be neglected even if I had more. My mallet was neglected for quite a while and probably would have been a good choice if this were the theme a few months ago, but lately I've been using it for lots of things, namely pounding out
steak
. I don't use my pasta machine very often, but I don't think Monty's neglected. I make sure to take him out and talk to him, let him get some fresh air. Sometimes Monty and Wilbur hang out, they're buddies. But back to neglected gadgets… I determined my icing gun to be the most neglected gadget I have, but I swear it's not my fault. Ames has been hidden away in a box in the back of the cupboard and I just completely forgot about him. I know he's been used before, but it's been years and years. And I hate to say it, but he's beginning to show his age. What age exactly I'm not sure, but suffice to say Ames is no spring chicken. I asked Dad where Ames came from and he said we've had him for at least 25 years and he was acquired when some old lady died and she'd been his for a long time before that. I now realize that Ames is past the point of being a neglected gadget and would be more proper categorized as an antique, but I didn't realize that when I started out.
I was making up a tray of Christmas baking, (I'll explain later) and so I thought I'd be all artsy and use Ames to decorate gingerbread men. It's been a long time since Ames worked out and he was in no shape to be decorating 3 dozen gingerbread men. Part of the problem, in medical terms, is that his rubber gasket has deteriorated and his plunger no longer pushes the icing forward except in fits and starts. When trying to decorate you'll get no icing so you push the plunger harder and still no icing so you push harder still and then AAAAAAAHHHH waaaay too much icing. This led to a couple gingerbread men, a tree and a snowman being entirely white (and lumpy) as opposed to neatly decorated with perfect icing, (yeah, like that would have happened regardless). Ames was struggling so I decided to let him retire and got out a pastry bag to finish the job. Ames will receive a medal for his valued lifelong service to the cookie decorating industry.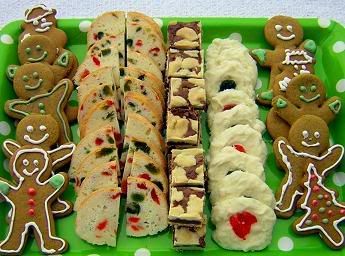 So I thought switching to a pastry bag would help me, ha! My decorating skills are severely lacking and I don't know if Ames could have helped me even if he was in his prime. The finished gingerbread men look like the work of a 4 year old. Luckily I also made whipped shortbread, Christmas cream cheese cake and chocolate walnut bars. All of these were more presentable as they didn't require any extra decorating. That's not to say the gingerbread men weren't tasty, they were indeed, they were just prettier on the inside than on the outside, or so I hear. I actually like raw gingerbread dough better than when it's been baked. I think there would have been quite a few more cookies produced if I hadn't of eaten so much dough, (yeah, yeah, salmonella, I know, whatever). The whipped shortbread really melt in your mouth, unfortunately this makes them hard to pick up because they fall apart, but they're super tasty. The Christmas cream cheese cake is a recipe that comes from one of my Grandma's friends and I think it's my favourite out of the bunch. I liked it better before I made it though. Not because it wasn't good, but because I learned everything that went into making it, it's not the healthiest choice. What am I talking about? Who cares about healthy choices when you're talking about Christmas baking?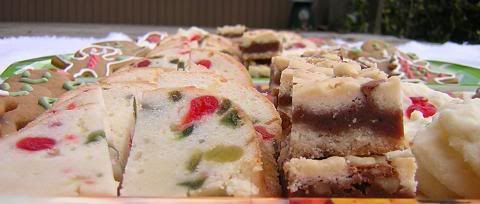 Anyways, I realize that Christmas is a long ways away but I was making up some Christmas goodies as a sample of my baking so that people from Mom's work who are too busy to bake during the holidays can get me to do it for them. Besides, Christmas isn't that far away. Sing it with me "Oh the weather outside is frightful, but the fire is so delightful…" Or at least that's what this little gingerbread man was saying, (the snow is real, welcome to Canada)…
**Here's the recipe for the Cream Cheese Christmas cake, it's the best kind of Christmas cake there is.
Nora Atkin's Christmas Cream Cheese Cake
1 8 oz package of cream cheese
½ lb butter
1 ½ c white sugar
½ tsp vanilla
4 large eggs
2 ¼ c all purpose flour
½ tsp baking powder
¼ lb red glazed cherries
¼ lb green glazed cherries
¼ lb yellow glazed pineapple (I didn't use the pineapple in this one, I like just cherries)
Chop fruit and toss in ¼ c flour. Cream butter and cheese – beat until smooth. Add sugar and vanilla and beat. Add eggs one at a time. Beat. Sift flour and baking powder together. Add gradually to cream mixture with electric mixture. Bake in tube pan for 300°F for 70min.
This cake freezes very well.
Technorati Tags:
Christmas
+
Blogging Event
+
Baking
+
Gingerbread
+
Cookies