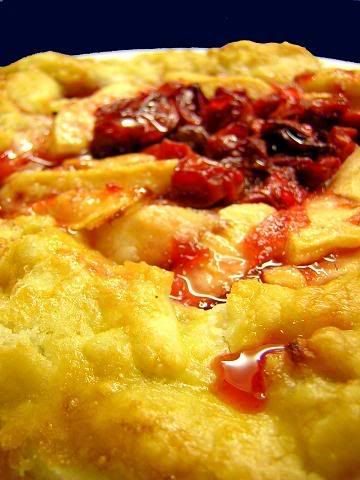 Here's some fun news, someone offered to give me money to bake pies for them! I'd do it for free just cause it's fun for me, but getting paid to do something I like is even better. This individual had tasted a piece of pie I made for someone else, decided they liked it and wanted more. Sweet. They didn't even care what flavour I made, they just wanted pie. Since they were paying me I wanted to ensure that they'd like what I put in so I asked what their favourite fruit was. Turns out it's cherries. They're not exactly in season right now but I do have a fairly large supply of cherries in the freezer that I picked at my Grandparents orchard this summer. That being said, I also didn't want to make exclusively cherry pies and I thought something seasonal might also be nice. Something from my backyard might be nice too, nice and convenient. Since I don't think a squash and cherry pie would go over so well, apples were the obvious choice. I made two apple pies, an apple-cherry pie and a straight cherry pie. I still had dough and fruit left over when I was finished, but not enough for an entire pie.
Mom had been through the kitchen earlier asking which pie was for us and seemed somewhat disappointed when I told her none of them. When I realized I had leftovers I figured I'd throw them together into something I like to call apple-cherry rustica. I rolled out my extra pie dough, made a ring of apples in the middle and filled the ring with cherries. Then I folded the extra dough over the top. Dessert was made in no time.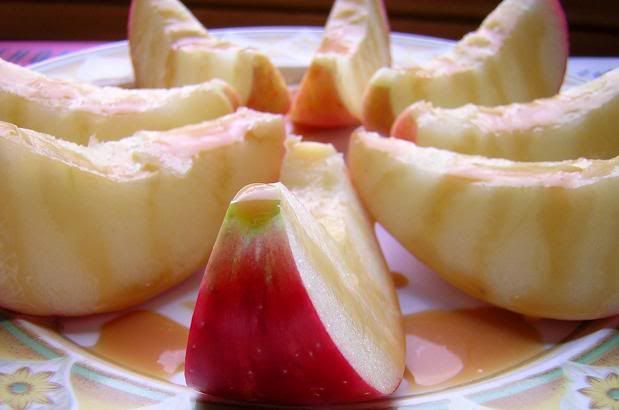 I've been doing lots with apples lately because I have so many of them. One of the nicest and simplest things to do with an apple is to slice it up and to drizzle the slices with caramel. It made for a great afternoon snack while reading The Nasty Bits by Anthony Bourdain, which, after eons of waiting, (I believe I started at number 300 on the waiting list) I finally got from the library.
Technorati Tags:
Food
+
Apple
+
Baking
+
Cherry
+
Pie