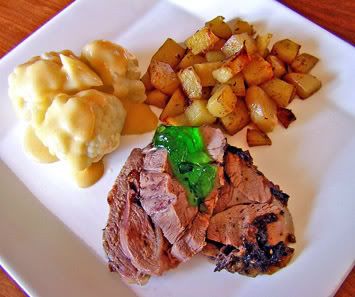 Hurray for the weekend! Just a recipe today.
Lemony Lamb (Adapted from Tessa Kiros' Falling Cloudberries)
1.5kg leg of lamb
Juice of 2 lemons
2 T za'atar
50 g butter
2 T olive oil
1 cup water
4 large potatoes, cubed
2 parsnips, sliced lengthwise
Preheat the oven to 425F. Place the parsnips in an even layer in a baking dish. Rub the lamb all over with lemon juice, pepper and za'atar and then place it on top of the parsnips. Dot the top of the lamb with butter. Pour 1 cup of water around the lamb and drizzle with olive oil. Bake for 30 minutes, flip the lamb and bake another 30 minutes. At this point, add the potatoes around the lamb and some water if it has evaporated. Lower the heat to 350F and bake for about another 1 ½-2 hours, flipping the lamb and potatoes at least once during this time. Remove from pan and let rest 10 minutes before slicing. While the lamb is resting, drain most of the liquid out of the baking dish, leaving the potatoes in the dish. Return the potatoes to the oven and increase the heat to 450F for about another 10 minutes or until potatoes are sufficiently browned.
Both the lamb and potatoes will have soaked up the lemon flavour wonderfully.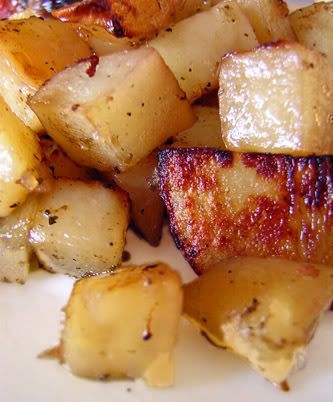 Technorati Tags:
Lamb + Cauliflower + Potatoes + Lemon