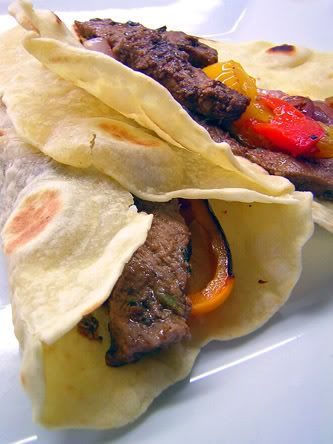 I've been having a huge mental block lately. Usually when I sit down to write my blog entries the words flow freely and I've got a post up in no time. But the past week has been somewhat of a struggle. The problem extends further than the blog though. I can't focus on conversations either so trying to interact with others is painful. I've been off in my own little world, my brain wandered off quite some time ago and hasn't felt the need to return. Luckily, this doesn't affect my cooking. Quite the opposite in fact. The kitchen is the only environment where I don't have to worry about anything other than what's right in front of me. I can easily get into a pepper chopping rhythm or a tortilla flipping rhythm and not think about anything else. Never mind the fact that before today I had never made tortillas, they were easy to focus on and surprisingly easy to make. Sometimes I get impatient when I'm making a dish that requires a whole lot of repetition like pancakes or crepes or tortillas but today I enjoyed that repetition, it was oddly soothing. I had two pans going, managed not to burn anything other than my fingers and wasn't bothered by that either.
There are some days when making tortillas would have been enough of an adventure and I wouldn't really want to make anything else. Today was not one of those days. Before making the tortillas I made my Grandma's broccoli salad and my recently created Asian inspired salad so that they would have time for all of the flavours to meld together. I also started marinating the steak I was going to fill the tortillas with for a sort of fajita, (onions, red, orange and yellow peppers would later be joining the mix). Usually when I make a marinade, I only make one. Today was not a usual day. I decided that a day like today required two different marinades so I made one up and turned to the blogs for the other. The steak strips were marinated for 4 hours before cooking and it definitely resulted in a more flavourful dish. All of this would have been more than enough on most days, but today was not one of those days. I also made brownies.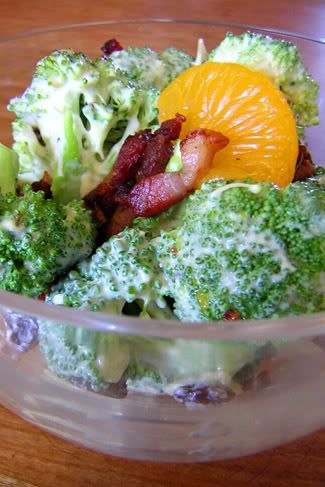 Flour Tortillas (Adapted from BakingBites)
3 1/3 cups flour (bread flour is slightly preferable to all purpose)
1/2 cup lard
1/2 tsp salt
1 cup warm water
Combine flour, salt and lard in a food processor and pulse briefly. With the processor on, pour in the water until the dough turns into a ball, let it go around a few times until the sides are completely clean.
Take the ball and divide it into 15 balls. Cover with plastic wrap or a damp towel and let rest for 20 minutes.
Roll out each ball into a circle. Get them as thin as you can - about 1mm thick.
In a nonstick frying pan over medium heat, dry fry each tortilla. Fry the first side until the surface has many bubbles. Flip it over and cook an additional minute. Both sides should have bubbles and be dry. Cooking times may vary with your oven, but don't increase the heat any or the tortillas may burn.
Tortillas can be frozen for up to 1 month, layered with sheets of wax paper.
Ginger-Soy Marinade for Steak (Adapted from Lenn Devours)
5 garlic cloves, roughly chopped
1 vidalia onion, roughly chopped
1 2-inch piece of ginger, peeled and sliced
1/4 cup good-but-not-great olive oil
1/4 cup dark soy sauce
2 tablespoons red wine vinegar
1 teaspoon paprika
Zest of 1 lime
Combine in a food processor and pour over the steak. Cover, refrigerate and let sit for about 4 hours.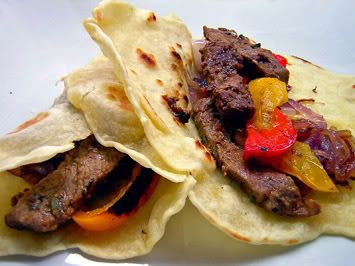 The second marinade I made was a hodge-podge of whatever I felt like throwing in and included: smoked sweet paprika, cumin, olive oil and cilantro, mixed again in the food processor.
Broccoli Salad (From Grandma)
4 broccoli trees, chopped into bite sized pieces
2 eggs
1 T cornstarch
1 T dry mustard
1 T sugar
¼ white vinegar
¼ cup water
¼ cup mayonnaise
¼ cup baba ghanoug (this was my addition, Grandmas usually just does a ½ cup mayo)
½ cup raisins
½ cup toasted slivered almonds
1 can mandarin slices, drained
1 small red onion, chopped
4 thick slices of bacon, chopped and fried then drained
Whisk together the eggs, cornstarch, mustard, sugar, vinegar and water. Place the bowl over a pot of simmering water on the stove and continue to whisk until the mixture thickens and coats the back of a spoon. Remove from heat and let cool. Once the mixture is cool, add mayo and baba ghanoug and whisk to combine.
Combine all of the remaining ingredients in a big bowl and pour the sauce overtop, then stir.
The brownies will make their appearance in another post, don't worry, they'll be here. And EJM- they even have raisins!
One last thing to end this ramble; a big thank you to Patricia of Technicolor Kitchen who has given me a Thinking Blogger Award, despite the recent absence of my brain.
Technorati Tags: