Despite the fact that I haven't mastered any one technique for cake decorating, I'm always looking for new ones. I'm like a bee that flits around from flower to flower, getting a little bit of pollen from each one, never settling anywhere for very long. I'm kind of annoying that way too, lots of buzzing around the kitchen. But it's a good idea to keep me around, because like the bee, I produce sweet treats. In this case, it's a chocolate liqueur cake from Donna Hay's Flavours. The chocolate decorations are also from Donna Hay's book, though not as part of this cake. The whipped cream is my own addition too because I thought the cake looked plain. I've been adding alcohol to baked goods quite frequently lately. I don't drink them much on their own but for some reason I love the flavour in cakes and puddings and ice cream. Mmmm ice cream. This new found interest has led me to try more liqueurs too. In this case, it's frangelico. I've always known that it exists, but had no real desire to drink it. Why on earth haven't I put it in a chocolate cake before? Chocolate + Frangelico = Alcoholic Nutella. That's genius, pure genius. I'll post the recipe in a few days, the book is currently a few hundred kilometers away from my current location.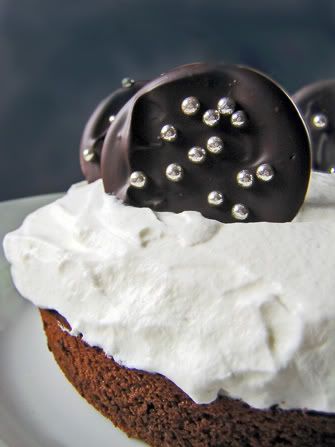 Frangelico Chocolate Cake (Adapted from Donna Hay's Flavours)
1.2 oz 86% chocolate
3.5 oz bittersweet chocolate
4.5 oz butter
3 eggs
1/3 cup sugar
2/3 cup all purpose flour
1 ½ tsp baking powder
1 cup ground almonds
1 tsp vanilla
1/3 cup Frangelico
Preheat the oven to 315F. Place the chocolate and butter over a large bowl over a pot of simmering water and heat slowly until smooth. Remove from the heat and add all of the other ingredients and mix to combine. Pour the mixture into an 8 inch round cake pan that is greased and lined with non stick baking paper. Bake for 30minutes. Allow to cool and then whip cream with a couple tablespoons of frangelico and a touch of sugar and coat the cake. To make the chocolate decorations simply melt chocolate (I used semi sweet) in a double boiler or in the microwave and spoon circles of it onto a silpat. You can decorate them with whatever you'd like, I used silver sugar balls but you could also used coloured sprinkles. Place in the fridge for 30 minutes and then remove and set on counter. When they're firm, remove them from the silpat and stick them on the cake.
Technorati Tags:
Cake + Donna Hay + Chocolate + Frangelico