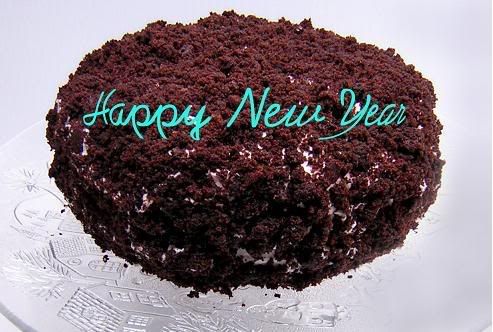 I thought there was no better way to end 2006 than with the cover recipe of Baking From My Home to Yours, (yes, that's right, more Dorie). After skimming over the instructions for the
Devil's Food White Out Cake
, I was a little hesitant. The icing required a candy thermometer and hot sugar, two things that are definitely not my friends. The icing was also described as marshmallowy, and my last foray into
marshmallow making
was just a whole lot of gooey. But I figured Dorie wouldn't steer me wrong and I set about making the cake. When it came time to boil the sugar I was nervous. I don't actually own a candy thermometer and this is somewhat of a problem, (a digital one is on the wish list). So I borrowed two candy thermometers from a friend, who offered up the both of them because she wasn't sure that either were very accurate. They looked old. And inaccurate. Neither of them rested at zero and they seemed to record different temperatures even though they were both placed in the same liquid. I didn't know which one was telling the truth, if either, so I split the difference and took the sugar off the heat when one thermometer was passed the right temperature and the other hadn't yet arrived. This seemed to work and I had no problem whipping up light, white and shiny icing.

This cake is interesting in that you make 4 layers, but only build the cake with 3, crumbling the 4th to coat the finished cake. After having done this, I looked at the cover of the book and realized that in that picture, the crumbs had not been spread over the entire top of the cake, leaving some nice white contrast. It was too late to do this with my cake, but I wanted to make it look a little more special since it was the last cake I'd be eating in 2006. I decided to make some marzipan roses to go on top. My flower shaping skills need some work, but they weren't too bad. For some reason my camera didn't like the red colour of the marzipan so the pictures with marzipan were a little off, (a new camera is also on the wishlist).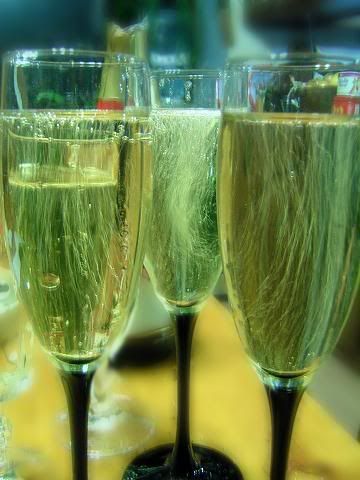 Of course, it was only appropriate to enjoy this cake with a glass, (or two or three) of Mumm champagne. There was talk of seeing what would happen if we dropped mentos into the champagne but instead we settled on testing out that theory with Diet Coke and drinking the champagne. The Diet Coke and mentos experiment wasn't quite as loud as the shotguns we heard going off at midnight, (seriously) but it was mildly entertaining. You can check out some other people trying it
here
.
And since I ended 2006 with a Dorie recipe, it seemed only right that I also start off 2007 with one. Sidenote- did you know Dorie has a book entirely about waffles??? I must get it. My new waffle maker deserves the best. But I digress. Dad really liked the
Orange-Berry muffins
I made, and I did too, but I was resisting making them again only because there were so many other amazing recipes I wanted to try. Dad hinted that he wanted the Orange-Berry muffins one day and then became more insistent that I make them, returning from the grocery store with oranges, "you know, like in those muffins you made…". I still wasn't budging; I wanted to try new recipes. Then he bought be a new muffin pan. It's pretty hard to refuse someone who buys me bakeware. So I gave in because it's the holidays and I was feeling nice and made these muffins for breakfast New Years day. Dad came into the kitchen and didn't take note of what I was making, instead asking if I wanted to go for a bike ride, because it was January 1st and how often can you say you went biking on January 1st? But apparently we had to go right away because it was supposed to rain later in the morning and turn cooler. I told him I needed 15 minutes because I was making his muffins. He was happy about the muffins but then proceeded to pace around while waiting and counted down with the oven timer to bike time.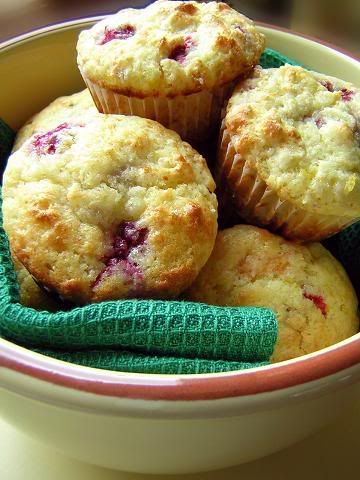 Given my stubbornness, I didn't reproduce the Orange-Berry muffins exactly. Muah ha ha ha! I substituted raspberries for the blueberries. I like to live dangerously. They were very tasty and thoroughly enjoyed after I thawed out from the bike ride.
In other news, this will be my last post for a little more than a week as I'm off to enjoy some sunshine and rum on a beautiful island. Try to survive without me. Hasta luego!
Technorati Tags:
New Years
+
Muffins
+
Cake
+
Chocolate
+
Dorie Greenspan