This is where I've been for the past week and returning has been seriously painful. I love Cuba. I love the beaches. I love the weather. I love the people. I love the rum. I have, however, missed being in the kitchen, so I guess I will try to focus on that aspect of my return and try not to think about the snow and cold or the lack of snorkeling, swimming, beach volleyballing, catamaraning, kayaking and lack of general all around fun that constitutes being home. To make returning a little less painful, I ensured I would have a parcel waiting for me. Sometimes you have to take matters into your own hands… Although I am grateful to have received my precious, precious Dorie Greenspan book for Christmas, there were so many others that I wanted as well. My family has proven themselves to be unreliable providers of cookbooks, it took months of hints before Dorie's book was in my grasp and it's a long way off until Christmas 2007, so I realized that if I wanted new cookbooks I had to get them myself.
Well, I dug through the sofa cushions, emptied the piggy bank, sold a kidney and sprung for some new books. Pretty ones. When most girls say they like pretty things they mean diamonds or shoes or some silly little purse, those things are only good for me if I can pawn them to buy real pretty things, like cookbooks. Although diamonds are shiny, they're just rocks, and if I want rocks I can go find some in the backyard. Most girls like shoes, but then again most girls don't have snowshoes for feet. Until Bigfoot is captured and it's deemed necessary for said Bigfoot to have the latest in fru fru footwear I don't think pretty shoes are something that are going to be made in my size. As for the silly little purses, given my apparently monstrous size, (now picture Bigfoot with a frilly purse) a dainty little sac of material that can't hold more than a few sticks of gum just looks ridiculous and out of proportion. And so, with all of the usual pretty things out of the picture, I turn my attention to cookbooks.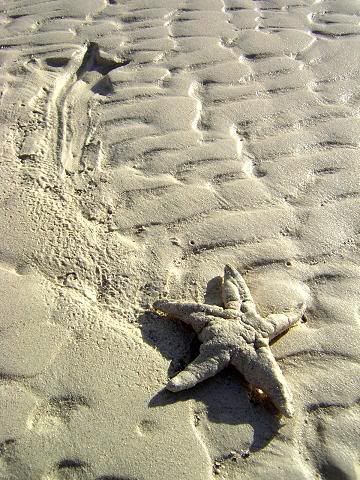 This is a relatively new obsession for me and also one that is proving to be quite costly.
Amazon
and
Chapters-Indigo
are quickly becoming my best friends but they can also serve as wolves in sheep's clothing. They lure me in with the promise of reduced prices but don't let me leave until I've spent enough to earn free shipping, and then some. I was thrilled when I received an email saying Chapters-Indigo was having a huge boxing week sale and even more thrilled when I discovered some excellent titles at prices under $5! It was insanity! It was too good to be true. As fast as I clicked, I wasn't fast enough. Time and time again the words "Out of Stock" flashed cruelly onto my screen. In the end, the only really good deal I got was
La Mia Cucina Toscana
for about $12. But then I needed to spend more money to get free shipping and unfortunately my taste is expensive. I managed a minute amount of restraint, as much as I would love to own the El Bulli cookbooks, I couldn't bring myself to pay upwards of $300 for just one book. Instead I selected two books whose titles seem to come up again and again as if a sign that I should have them:
Happy in the Kitchen
and
Falling Cloudberries
. I only just received them yesterday and have thoroughly been enjoying drooling over all of the beautiful pictures. I think I mentally bookmarked just about every recipe there was. I'm still not done going through them but I'm very happy with my purchases. The only thing I find puzzling is that the cover of Happy in the Kitchen does not have my picture on it… I'm sure you will see a number of recipes coming from these books in the very near future.
The blog world didn't sleep while I was away and in my absence, Scott of
Real Epicurean
tagged me for a Meme called "5 Things You Didn't Know About Me". And so without further ado, prepare to be astounded by 5 new facts about me:
1- Although I pass myself off quite convincingly as a Culinary Casanova, I have never eaten truffles, foie gras, quinces or a macaron, (other than my own failed attempt at making the last one).
2- I once parasailed over extinct volcanoes.
3- I can only tell right from left because when I was little I tripped and fell and broke my baby finger on my right hand. It's been crooked ever since and has served to remind me which side is right.
4- I've snorkeled on the world's largest and second largest coral reefs.
5- I think Dorie Greenspan is the coolest ever! What? You knew that already? Hmm, well then, I wish unicorns were real.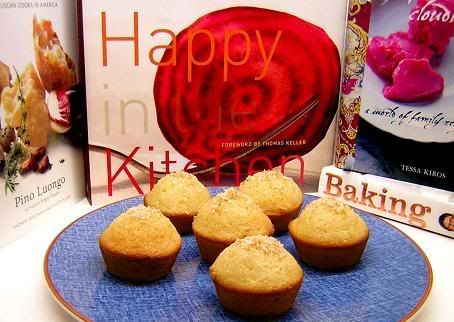 As a re-introduction to my kitchen and an homage to my trip, I've made yet another Dorie recipe, (I will make you all love her too) with a couple of my own adaptations to increase the Cuba factor. Dorie's Rum Drenched Vanilla Cake is lifted to another level with the addition of coconut and the use of some of my precious supply of Cuban rum, (I might have smuggled in a little more than my share, but I could help it, I needed all 4 bottles). Also, instead of making a loaf cake as suggestion, I opted for cupcakes, no real reason there. Dorie tells me this cake is even better the next day and I can only imagine what that could mean as it's already pretty amazing as far as I'm concerned. Dorie, we could be such a great team!
In my absence I didn't even look at a computer so I was completely unaware that I had been shortlisted for a Foodblog Award for Best New Food Blog, and I missed voting entirely. When I returned I found out both that I was shortlisted and that I didn't win at the same time, but I was pretty happy to see that I had been considered as I was certainly in good company. Nicole, of
Pinch My Salt
was the well deserved winner in the Best New Food Blog Category, congrats! To see all of the winners and nominees you can check out the announcement over on the
Well Fed Network
it's well worth a look.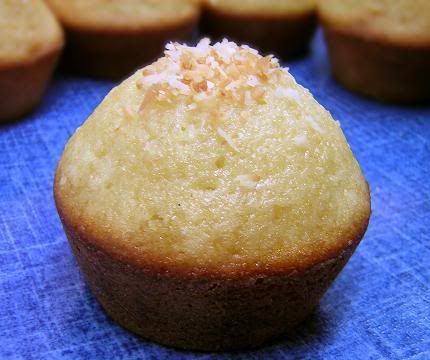 Memories of Cuba Cupcakes
(Adapted from Dorie Greenspan's Rum-Drenched Vanilla Cakes in Baking: From My Home to Yours)
For the Cupcakes
1 1/3 cups all purpose flour
1 ¼ tsp baking powder
Pinch salt
½ cup vanilla sugar
½ cup sugar (very generous)
2 ¼ tsp pure vanilla extract
¼ tsp coconut extract
3 eggs, room temp
1/3 cup heavy cream
1 ½ T Havana Club Dark Reserve Rum
7 ½ T butter, melted and cooled
1/3 cup (generous) coconut plus an extra little handful of toasted coconut
For the Syrup
1/6th cup water
1/8th cup sugar
1/8th cup Dark Havana Club Reserve Rum
(If you're wondering why the measurements are a little funny it's because among the other changes I made to Dorie's recipe, I also halved it.)
Centre a rack in the oven and preheat to 350F. Grease and flour a 12 cup muffin tin. Place the pan on a insulated baking sheet.
Sift the flour, baking powder and salt together.
Thoroughly whisk together the sugars and eggs. Whisk in the extracts, then the cream, followed by the rum. Gently stir in the dry ingredients in 3 or 4 additions, the batter will be smooth and thick. Finish by folding in the melted butter in 2 or 3 additions. Pour the batter into the prepared pan and put 'em in the oven.
As soon as you put the cakes in the oven, start on the syrup. Stir the water and sugar together in a medium saucepan over medium heat until sugar melts, then bring to a boil. Remove from heat and stir in the rum. Pour the syrup into a heat proof bowl and let cool. (*Next time I would actually increase the amount of syrup.)
The cupcakes will bake for 18-20 minutes, until a toothpick inserted into the centre comes out clean. Place pan on a rack for 5 minutes before unmolding the cupcakes then place them on a wire rack. Poke little holes all over the cupcakes (I used a bamboo skewer) and brush with the syrup, working slowly so the cakes sop it all up. Sprinkle the tops with the toasted coconut. Leave the cakes on the rack to cool to room temperature.
If you've got the time, wrap the completely cooled cakes in plastic wrap and let them sit on the counter overnight—the flavour really develops with a leisurely rest, (I like to think of it as relaxing on the beach). Wrapped airtight, the cakes will keep for 4 days at room temp. If you don't drench them with rum, you can keep the cupcakes well wrapped in the freezer for up to 2 months, but really, why would you do that?
Technorati Tags:
Meme
+
Cupcakes
+
Baking
+
Dorie Greenspan
+
Recipe