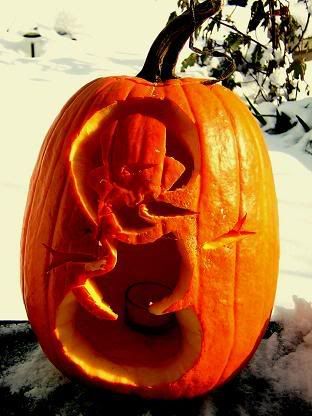 Why is pumpkin carving reserved for Halloween? What if I want to carver a winter pumpkin? Well, I do what I want! And there you have Frosty the Pumpkin… er, Pumpkin-Snowman, he's hyphenated. I didn't get around to carving a pumpkin for Halloween for a couple reasons, the foremost one is probably that I was just too lazy and secondary to that was the fact that there hasn't been a trick or treater at my house for the past 11 years. After Halloween had passed however, there was still an uncarved pumpkin sitting on my front steps and it seemed sort of wrong for him not to have fulfilled his destiny of being carved and lit up. That was a shame indeed. But he still wasn't getting carved. Then, while scanning the blogs I noticed quite a few people who had roasted pumpkin seeds. Mmmmm, roasted pumpkin seeds. My pumpkin was going to achieve his destiny after all. Had my earlier attempts of seed roasting gone better he might not have though. At Thanksgiving I had scooped pumpkin seeds out of a little cooking pumpkin so that I could turn the pumpkin into
pie
. I tried to roast those seed but they ended up being severely over roasted to the point of blackness and inedibility. Now was my chance to redeem myself. But since Halloween was over I didn't want to carve your typical jack-o-lantern.
Inspiration came in the form of almost a foot of snow deposited on my doorstep overnight. It was too cold to make a snowman outside, so I created one inside. Eventually the sun came out and it was nice enough for my snowman and I to venture outside to find him a friend. I didn't have to go far at all to find a lovely little snowman with a carrot nose. He was so nice that I had no reservations about leaving Frosty the Pumpkin-Snowman to hang out with him. Oh the adventures those two got into! They built forts, they had snowball fights, they became the best of friends.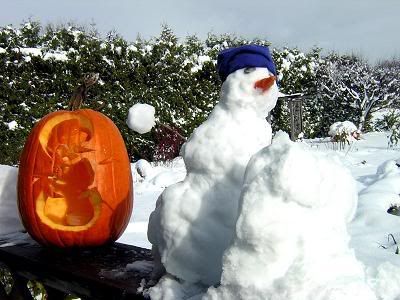 While they were busy playing in the snow, I was busy inside roasting those pumpkin seeds. First I boiled them in salted water for ten minutes. Then I drained them, and mixed them in a bowl with an egg white, salt, sugar, cumin and cayenne for a treat that would be sweet with heat. Then it was into the oven at 375F for around 20 minutes, stirring as necessary. The end result was a crunchy and satisfying treat. Apparently I wasn't the only one who thought so.
Technorati Tags:
Food
+
Pumpkin
+
Snowman
+
Seeds