I'm on the biggest bread kick ever lately, spurred on by the fact that my bread is turning out really shockingly well. Previously, my bread has sucked. It's been short and dense with a soft crust and just generally disappointing. I was ready to give up bread making, hang up my apron and resign myself to the fact that it just wasn't for me. But
Joe Pastry
promised me that bread making really wasn't that hard, he gave me some suggestions, I had visit from the
Bread Fairy
and low and behold I recreated Mom's bread, and it was good. Then along came the ubiquitous
No Knead Bread
and it was a huge success. Even with my enormous bread ineptitude, I discovered that it was possible for me to produce a wonderful loaf of bread. The only downside was the length of time it took to produce this bread, almost a full 24 hours. When I want bread I just can't wait that long. Apparently I'm not the only one. As I was browsing the blogs I saw that Adam, the
Amateur Gourmet
had received some fancy schmancy cheese and wanted to enjoy it with some nice homemade bread that didn't require a days worth of waiting. Enter Nigel Slater's recipe for "
A Really Good and Very Easy White Loaf
." Best of all it was ready in a fraction of the time required for No Knead Bread. Adam made an enormous loaf of "A Really Good and Very Easy White Loaf" and enjoyed his cheese with it. He then encouraged readers to make this bread and send him pictures of the results which he would post, giving those intrepid bakers instant fame and popularity. I can't say that didn't play into my decision to make this bread. Alas, as usual, I was behind on the trend and he's already posted the
round up
of people who have made this bread. I'm sure they're all very famous now and people are showering them with cash. A day late and a dollar short. But I persevered. I tried to forget about the fame in order to focus on the bread.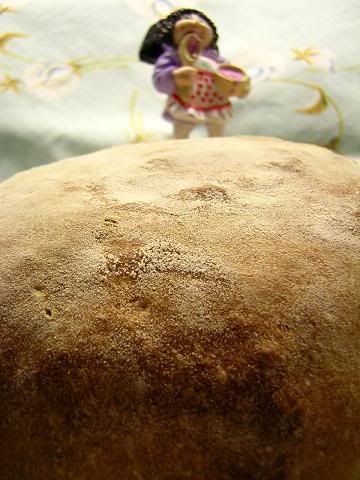 I was rewarded with another absolutely wonderful loaf of bread which I've renamed "Big Boule Bread" cause it sounds cool and that's what it looks like. Watch out people, I'm on my way to dominating the bread world, one loaf at a time.
Technorati Tags:
Food
+
Bread
+
Recipe