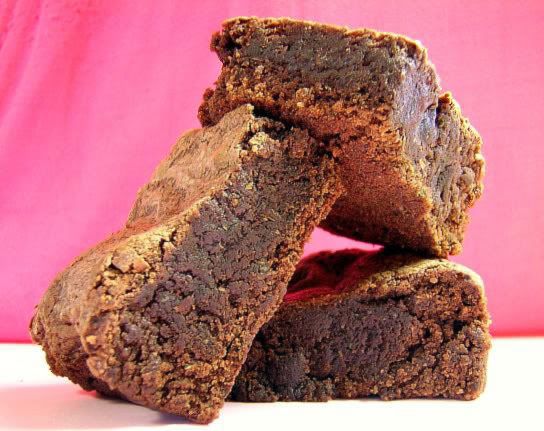 Up A Creek Without A PatL
is hosting this round of Weekend Herb Blogging which was originally started by
Kalyn's Kitchen
. As I understand it, all you have to do is cook with a herb and write about it. No problem. I've had this recipe floating around in my head for quite a while now but never got around to making it. The recipe may be a bit unusual for WHB because it's not a main course, but it's sort of unusual for a dessert too. At this point you've already seen the picture of brownies and are probably wondering what herb I stuck into them. That herb would be basil, the plant that tastes somewhat like anise, with a strong, pungent, sweet smell. The idea for basil brownies came to me one day while eating a chocolate chip cookie. I had just finished picking a whole bunch of basil to make pesto and the smell of basil was still on my hands. As I bit into my chocolate chip cookie, the taste of chocolate combined with the smell of basil and the result was quite pleasing. It was at that point that I decided I would attempt to make basil brownies.
Shortly thereafter I saw a post on
Kiss the Hem of Her Apron
with brownies that she claimed were made from the last brownie recipe she would ever use, because they were just that good. I'm always intrigued by recipes that people claim are the best ever and I usually try them because I like to know what other people consider the best. However, no matter how good they are, they will never live up to the hype, (see
Lawsuit Buttermilk Muffins
for more details…). This doesn't mean that the recipe isn't amazing and that I won't make it and enjoy it again and again, it just means I don't believe in perfection. That's both good and bad, but what are you gonna do?
Anyways, I decided to kill two birds with one stone and make both the only brownie recipe that
Kiss the Hem of Her Apron
will ever use again, as well as my basil brownies. I only made one batch of brownies, but divided the pan into two sections, separated by some tin foil. I poured half of the brownie mixture into one side of the pan, added the basil and then poured the rest of the mixture into the other side. When I originally conceived of this idea, I thought I would use fresh basil, plucked from my garden. That would have worked if I had made the brownies at the same time I had the idea. Instead, when I went out to my garden today to pick some basil I found nothing but naked stems. Right, that whole snow thing.
Wikipedia
tells me that basil is very sensitive to cold, and grows best in hot, dry conditions. And so I went back into the kitchen to rummage around the spice cabinet in search of some dried basil. I have a feeling the basil I found was past its prime. Throughout the summer I never used dried herbs because I have everything I could ever need in my garden. Unfortunately, Canadian winters are not very accommodating to herb gardens and for some reason I haven't cultivated herbs indoors like smarter people do. Dried basil doesn't have the same flavour as fresh either, but it was all I had and I was determined to make the basil brownies so I was using it. I don't think I would have had to use nearly as much basil (4 tsp for half a batch of brownies) if my dried basil had been better, or if it had been fresh. My final verdict on these though is that they're pretty decent. I like the fact that it's an unusual flavour, definitely very basilly, but still chocolately as well. I'd make them again, but with fresh basil.
Brilynn's Basil Brownies (or B3)
Adapted from Alice Medrich's 'Cookies and Brownies'
Serves 16… if you like small serving sizes
6 T butter, (salted was all I had so I didn't add any additional salt to the recipe)
4 ounces unsweetened chocolate
1 1/4 cups sugar
1 t vanilla extract
2 eggs + 1 egg yolk
1/2 cup all purpose flour
4 tsp dried basil
Preheat the oven to 400F and line and 8-inch square metal baking pan with foil. I made a half and half recipe so I divided the pan in two. This meant all the basil went into one side, making it very basilly.
Melt the butter and the chocolate together, on top of a double boiler or in the microwave, stirring often until smooth. Stir in sugar, vanilla and salt. Add eggs one at a time, followed by flour. Stir until very smooth, about 1 minute. If you're making a half and half recipe as well, pour half the batter into the prepared pan, add the basil to the remaining batter in the bowl, combine and then pour into the other half of the pan.
Bake at 400F for 20 minutes.
Meanwhile, prepare a water bath. Fill a large roasting pan with water and ice about 1 inch deep.
When the brownies are done - and they will look a bit dry on top - take them immediately from the oven and place in the water bath. Add more ice to the water if necessary. Allow to cool completely in the bath before removing the pan and cutting the brownies.
Store in an airtight container for up to 3 days.
Technorati Tags:
Food
+
Blogging Event
+
Baking
+
Weekend Herb Blogging
+
Chocolate
+
Basil