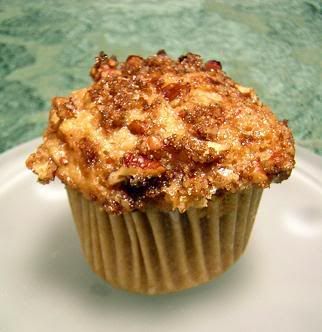 Recently I made the fabled "Lawsuit Buttermilk Muffins". I've read about them in quite a few places,
Cream Puffs in Venice
and
Kitchen Wench
have both done their version. They've been getting rave reviews and with a name like Lawsuit Muffins there's got to be something to them. Unfortunately this was what also led to their downfall in my eyes. Had I of stumbled upon this recipe myself and it was called something like buttermilk muffins or something unsuspecting like that, I probably would have loved them. That, however, was not the case. In my eyes these muffins had been hyped up to unrealistic standards and now they suffer from the curse of the over-hype. Anything that has been overhyped is bound to fail. I'm sure some people can look beyond the hype and see these muffins for what they really are, but not me. I got caught up in the glitz and glam of the possibility of a muffin so good that it resulted in lawsuits. With expectations this high I was destined for disappointment. But don't let me dissuade you from making these muffins. The crumble on top is excellent, the muffins are moist and not sickeningly sweet, they freeze well and the fruit inside is interchangeable. There's really nothing not to like about these muffins. They are in fact quite delicious and are wonderful by any realistic standards. I just shouldn't have expected Pierre Herme from my lowly kitchen.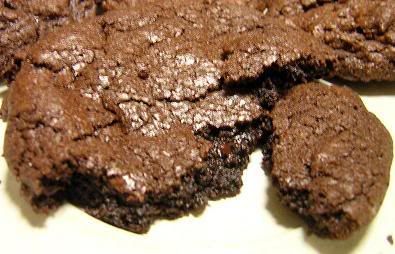 Curiously, the other treat I made at the same time as the muffins was a Donna Hay recipe for double chocolate cookies. I had no real expectations for these cookies, no one had told me about them and all I knew was that they contained a massive amount of chocolate. They were divine. A rich chocolate cookie with chunks of chocolate that left people wanting more. Here I go, overhyping the cookie for you. Ruining your chances of enjoying it. Sigh. Make both of these treats, they're good, just don't expect the sky to fall.
Double Chocolate Cookies
120g (4 ½ oz) dark chocolate, chopped
110g (4 oz) unsalted butter, softened
¾ cup brown sugar
1 egg
1 tsp vanilla extract
1 cup all purpose flour, sifted
¼ cup cocoa powder, sifted
1 tsp baking soda
½ tsp salt
280g (9 ¾ oz) dark chocolate, chopped
Preheat the oven to 320F. Place the chocolate in a heatproof bowl over a saucepan of simmering water and stir until the chocolate is melted and smooth. Set aside.
Place the butter and sugar in the bowl of an electric mixer and beat for 8-10 minutes or until ight and creamy. Add the egg and vanilla and beat for a further 3-4 minutes. Stir through the flour, cocoa, baking soda, salt and melted chocolate. Add the extra chopped chocolate and stir to combine. Roll tablespoons of the mixture into rounds. Place on baking trays lined with baking paper, allowing room for the cookies to spread, and flatten slightly. Bake for 10-12 minutes or until slight cracks have formed. Cool on wire racks.
*Donna Hay says this recipe makes 16 cookies. These must be enormous cookies because I probably got 3 dozen when I did it.