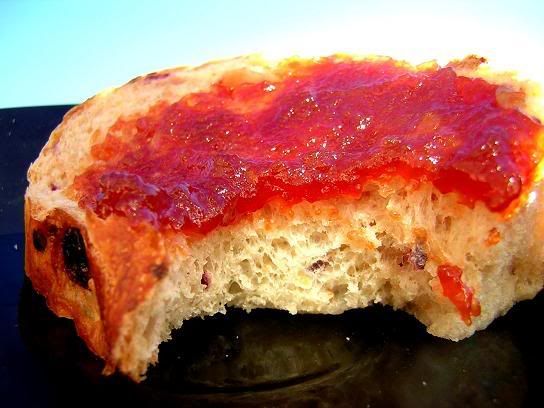 Let me start out by saying a few things: Yesterday's post was boring, I know. I assure you the stuffed peppers were very good, but the post was not, sorry about that one. Second, the above picture is to show that eventually, I did manage to make apple butter, it just happened in a very roundabout way. I think the rest of this post ended up being a little bit wacky to balance out the boringness of yesterday. Now I'm even-steven and somewhat normal posts should resume tomorrow… whatever 'normal' happens to be. Anyways, enjoy the weirdness that follows.
**Some pictures may not be 100% accurate, my skin is not actually blue and there's more stuff in my kitchen, use your imagination.
Given that I've recently discovered that I can make jam I thought that I could also make apple butter. I thought I could do this without consulting a recipe. After all, in the kitchen, I don't need directions, (or at least this is what I have managed to convince myself). The following is the account of how I made apple butter. I suggest that no one attempt this process unless time is not a factor that matters, patience is in abundance and insanity runs in the family.

First I picked apples. You can't make apple butter without apples, (or butter???). Off I trudged, into the backyard with a bushel basket, eager to get started. The deer like apples too, I saved them the bad ones.

Then I had to turn my freshly picked apples into juice. To do this I used an old fashioned apple press, only because I don't have a new fancy kitchen gadget (like a juicer attachment for Wilbur, it's on the wish list). Actually, I don't even have an old fashioned apple press, but I borrowed one from friends. This thing actually used to be cranked by hand, apparently it was great fun for the neighbourhood kids. Now it is attached to an old motor which turns the paddle that crushes the apples. Eventually you end up with apple juice. Unfortunately you also end up with some 'extras'. It seems that my apple trees, free of pesticides, are full of pests. So I strained the juice through some cheesecloth.
Back in the kitchen I set about making apple butter. First thing to do was NOT to consult a recipe. I would do it my way. I poured the juice into a pot and turned it up high until it boiled for a while, then reduced it to a simmer. This was going to take a while, so I went to check my email. Some time later I went back to the kitchen to check on my juice, it had reduced by about half. Still very much like juice, not so much like butter. I went to read a blog or two, or 20. The smell of apples got stronger. I went back into the kitchen to check on them. The juice had reduced by another half. Still not butter though. Hmmm… I went and checked email again.

At this point I relented slightly and decided a quick look at a recipe wouldn't be so bad, but I was definitely not reading the whole thing. A look at the ingredients list showed that to make apple butter you needed sugar. I didn't look at the recipe long enough to see how much sugar was required, so I just threw some in at random. Then I ate some Tim Tams and went to watch TV. The first show that came on was the female Emeril's new talk show. I can almost hear her saying "Now just add some E.V.O.O. and BAM!". I shuddered and changed the channel.

I wondered if the sugar was helping turn my juice into butter. I thought maybe I should sneak another quick peak at the recipe. I noticed that the recipe called for applesauce as well as apple juice. But I didn't have any applesauce, I had turned all of my apples into juice. I did have some spiced pear sauce in the freezer though, so I put it in without regard for measurement. More TV. Another look at the recipe. Lemon juice was added along with some more sugar. At this point it seemed like a little thickening might be happening. I was concerned that if I left the kitchen and got distracted I would return to a replay of the horror that happened when I ignored boiling grape juice… I brought a chair into the kitchen and sat staring at the pot. That was awfully boring. I went and got my knitting. I'm making a sweater for the Baby Genius. I was now being productive. The sleeve I was working on is actually much more complicated than the drawing shows, more complicated than my abilities with Paint allow me to demonstrate. I spend a lot of time undoing rows of stitches to fix mistakes, it's a wonder I ever get anywhere. What was I doing in the kitchen again? Right, I stirred the pot. Still not thick enough, but it was starting to look a little more interesting.
Back to the knitting, but not for long. There was a whole lot of bubbling happening in the pot and not a whole lot of apple left. The knitting was abandoned as I took up a permanent stirring position. I overestimated the readiness of the apples. I was Official Stirrer for a loooong time. Finally, impatience got the best of me and I decided that they would definitely thicken up a little after cooling so it was into the jars for my apple butter, (which, curiously enough, contains no butter, apparently for some people the consistency of the finished product is similar to butter, they probably follow a recipe or something). I looked at my cooling jars of apple butter. All of this work and I only get 2 and a half jars of product??? Good grief. A recipe probably would have warned me of this. But my way was more fun, right? Right?

Anyhow, I'm using this apple butter making adventure to announce my entry into the second round of Canadian Blogging By Post which is being hosted by Confessions of a Cardamom Addict http://cardamomaddict.blogspot.com/. The first round was hosted by Sweet Plaisir: Plaisir Sucré http://sweetpleasure.blogspot.com/ and had chocolate as the theme. This time it has been decided that the theme is Our Season's Bounty. No matter what part of this great land we are in—city or country—our stores and markets brim with wonderful foods from our farmers' harvests—apples, beans, corn, grapes, plums, spinach, tomatoes—it only makes sense for CBBP 2's theme to be a spotlight on our season's bounty. Packages away!

Technorati Tags:
Food and Drink
+
CBBP
+
Apples
+
Cooking