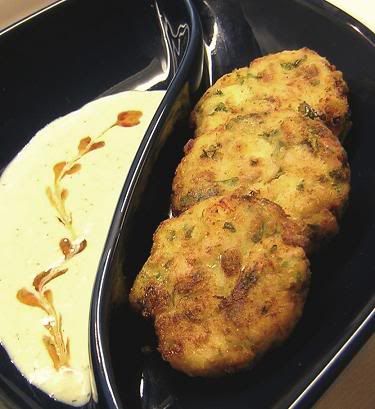 It's time for another round of Hay Hay it's Donna Day, this 6th edition is being hosted by JenJen of
I Love Milk and Cookies
. JenJen earned the title of host after winning the 5th round with her
Three Olive Tart with Goat's Cheese and Rosemary
. Along with being host, she received the privilege of selecting the theme for the 6th edition: Fritters. The fritters could be savory or sweet and as I've been making a lot of sweet items lately, I opted for the savoury. The recipe I selected just sort of appeared in my lap at the same time as Dad was asking me what I wanted to do with the haddock he had brought home for dinner. I was flipping through Jamie Oliver's cookbook 'Jamie's Dinners', not looking for anything in particular and just as Dad was asking me about haddock I came across a haddock fritter recipe. It was a sign. I was meant to make the fritters.
Of course, this challenge is all about Donna Hay, so I stopped to think for a minute if a Jamie Oliver recipe was appropriate. I came to the following conclusions:
1- In the book 'Jamie's Dinners', he's encouraging people to cook by presenting simple, tasty recipes, very much like Donna Hay.
2- When I participated in HHDD#5 I used a recipe that I made up on my own but it adhered to the theme of savoury tart and was accepted. My savoury fritter also adheres to the general fritter theme.
3- If you add –ay to Oliver, it becomes Olive-ay and that rhymes with Hay. They're practically the same person.
And based on these conclusions, I decided that my Jamie Oliver recipe was acceptable, and as usual, I would modify it slightly anyways. Olive-ay's recipe didn't come with a dipping sauce so I chose to make my own which consisted of homemade tzatziki drizzled with sweet chili sauce. And now, without further ado, here is my version of South American Fishcakes from 'Jamie's Dinners':
Haddock Fritters with Bri's Dipping Sauce
2lb 3oz haddock fillets
2/3 cup milk
2 bay leaves
1 pound sweet potato, peeled and diced
1 pound white potato, peeled and diced
Big bunch of parsley, finely chopped
Bunch of mint, finely chopped
Small bunch of cilantro, finely chopped
2 green onions, finely, chopped
Zest of 2 lemons and 2 limes
1 teaspoon fennel seeds, finely chopped
2 eggs
1 tablespoon scotch bonnet pepper sauce
Sea salt and freshly ground pepper to taste
¾ cup flour
Sunflower oil for frying
Juice of lemons and limes
Preheat oven to 375F. Place haddock in deep pan with milk and bay leaves, cover with tinfoil and cook for 15 minutes. At the same time, cook potatoes in pot of boiling salted water for ~15 minutes or until soft. Drain them, return to pan and mash.
Flake the cooked fish into a large bowl. Add mashed potatoes, parsley, mint, cilantro, green onion, lemon and lime zest, fennel seeds, eggs, pepper sauce, salt and pepper. Mix well.
Cover your work surface with the flour. Take a large tablespoon of the mixture into your hands, shape it into a ball and roll in the flour to coat, then flatten into a small pancake. Repeat until your bowl is empty.
Pour enough oil into a heavy bottomed saucepan to fill 1/3 of the way up. Heat oil over medium heat and then fry fish cakes until brown and crispy, flipping them after a couple minutes. Don't overcrowd the pan. Drain on paper towels and drizzle with lemon juice. Serve with dipping sauce.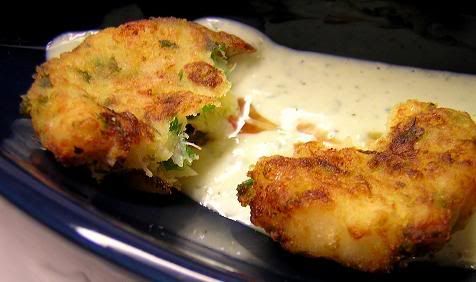 Tzatziki
2 cups plain yogurt, drained if you have the time
1/2 cucumber or more, not peeled, seeded and chopped
1/1-2 teaspoons salt
2 garlic cloves, chopped
2 tablespoon chopped fresh dill
1 tablespoon extra virgin olive oil
1 teaspoon red wine vinegar
1/4 teaspoon ground black pepper
Whirl it all together in a food processor and there you have it. If you haven't drained your yogurt ahead of time it will be runnier, but still good. If you refrigerate the finished sauce overnight it will thicken up somewhat. I drizzled store bought sweet chili sauce over the tzatziki before serving, it made for nice visual contrast and it tastes pretty good too.
The haddock fritters were really simple to make and I will certainly make them again, probably with one variation or another, I'm always looking to try something new. The recipe could be endlessly varied by substituting different types of fish or adding shrimp or scallops to the mixture. I considered adding shrimp and scallops to mine but then realized that my savoury tart of HHDD#5 had used shrimp and scallops and decided a repeat so soon wasn't good, especially when I had plenty of haddock available. Not to worry though, the shrimp and scallops ended up getting puréed and put into wontons for a seafood wonton soup, they definitely didn't go to waste.
Technorati Tags:
Blogging Event
+
HHDD#6
+
Donna Hay
+
Recipe
+
Fish