Despite its interesting appearance I would not recommend that you re-create this dish, at least not exactly. It seemed like a good idea at the time, but the result was definitely not what I was going for taste wise. This whole thing got started when I heard that the theme for this round of
Weekend Breakfast Blogging
was 'A Twist in the Plate.' WBB#6 is being hosted by
Saffron Trail
and her instructions were to take any popular recipe either from a recipe book, internet recipe resource or a fellow blogger's recipe and do your own twist on it. I decided to stick to the basics and reinvent plain old bacon, eggs and toast.
Perhaps I should have left them as they were. There's nothing wrong with bacon and eggs, they're tasty, what I created was not. It could have been good though, it has potential, there was just one small problem, nix that, BIG problem. As I pondered how I could have turned bacon and eggs into something so awful I started breaking down the dish into its individual components to try to figure out where I went wrong. Eggs, cheese and milk? Good. Chipotle pepper and rosemary? Good. Multi-grain toast? Good. Olives? Good. Tomato and sundried tomato? Good. Bacon? Goooooood. Red pepper jelly? Good. Orange juice? Good. Mustard powder? Usually good. So what was the problem? Ah yes, there was one more ingredient: mayonnaise. BAD! I have come to the conclusion that I don't really like mayonnaise and I especially don't like the combination of mayonnaise, red pepper jelly, orange juice and mustard powder. VERY BAD! The mayo sauce was like e-coli, tainting everything it touched, which unfortunately, was everything and it therefore rendered the entire dish inedible. The stars were pretty, the plate was colourful, it looked alright, but it most certainly was not. After one bite I was starting to regret my breakfast decision. After two bites (hey, I had to give it the benefit of the doubt) I started to get a bit of a gag reflex. As I watched the third bite approach my lips I knew I couldn't do it. I dropped my fork and with a heaven heart and an upset stomach I dumped the rest of the plate in the garbage. I then had a bowl of cereal for breakfast. I still feel like I can taste the dreadful mayonnaise.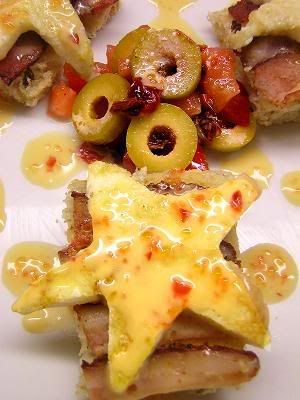 For anyone who would like to redo this recipe without my awful mayonnaise sauce, I suggest creating a hollandaise sauce instead. I realize that the two are quite similar but I would say that mayonnaise and hollandaise are like a set of twins. They look the same but one is evil and one is good. Mayonnaise alone though did not ruin this sauce. You're probably wondering what possessed me to mix together mayonnaise, mustard powder, orange juice and red pepper jelly. Fair enough. I had glanced at a Bon Appetit recipe a while ago for
mock hollandaise
, and it contained the first three ingredients. How could Bon Appetit have led me astray? Upon closer inspection (about 2 minutes ago) of the mock hollandaise recipe I noted that the mustard was in fact Dijon and not powdered and that the recipe also called for grated orange peel and lemon juice. Those changes probably made a big difference, it needed the lemon juice. So I guess my inability to read recipes was part of the problem, the other part was the addition of red pepper jelly. In most cases I like the sweet with heat taste that the jelly adds. In this case however, the lack of lemon juice and the addition of red pepper jelly made for a cloyingly sweet (and disgusting) sauce. My stomach is still churning just thinking about it. Blech.
This disaster dish is not helping my "
Bringing Breakfast Back
" cause, but I'm sure the other entries into the 6th round of Weekend Breakfast Blogging are better. You'll have to go check them out at Saffron Trail.
Technorati Tags:
Blogging Event
+
WBB#6
+
Eggs
+
Bacon