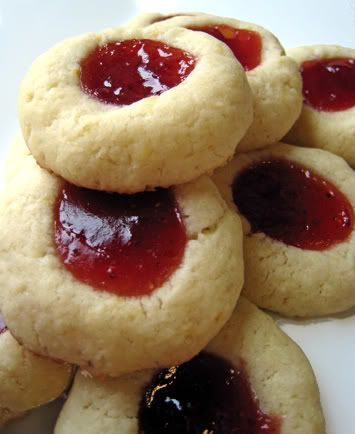 Often times when I'm looking to bake something but I'm not sure what, I'll turn to Epicurious.com to find the answer. Using the search engine on Epicurious allows you to search past recipes from such wonderful magazines as Bon Appetit and Gourmet. Nine times out of ten I will find something from one of those magazines that catches my eye. That was the case today when I felt like making cookies, but couldn't pinpoint what kind of cookies. These Lemon Thumbprints were the first ones to jump out at me and I had all of the ingredients so I was off to the kitchen to make them.
I'd never made thumbprint cookies before, but they appealed to me for a few reasons. Firstly, they're pretty, and I would be lying if I said a baked goods visual appeal doesn't influence what I think of it. I know there are tons of ugly but delicious cookies out there and plenty of beauties that aren't palatable, but if you can marry taste and looks you've got yourself one stellar cookie. That was my hope when I began making these thumbprints. The other reason that I chose them was that there was something childish and fun about these cookies. I think this is the only treat that you can stick your fingers into and not be scolded for. That's reason enough to make them for me.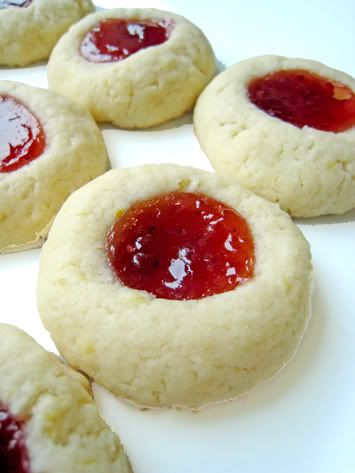 1 cup (2 sticks) unsalted butter, room temperature

1/2 cup sugar

2 large egg yolks

4 tablespoons grated lemon peel

2 tablespoon fresh lemon juice

1/4 teaspoon salt

2 1/4 cups all purpose flour
6 tablespoons (about) jam or jelly

Preheat oven to 350°F. Lightly butter 2 baking sheets.
Using electric mixer, beat 1 cup butter and sugar in large bowl until well blended. Beat in egg yolks, lemon peel, lemon juice and salt.
Add flour in 2 additions and beat just until moist clumps form. Gather dough together in bowl to bind dough.
Chill for 15 minutes.
Form dough into 1-inch balls. Place balls on prepared baking sheets, spacing 1 inch apart. Using finger, make deep indentation in center of each ball. If you want the jam to be slightly chewy, spoon it in before putting the cookies into the oven.
Bake cookies until firm to touch and golden on bottom, about 15 minutes. Remove from oven. Immediately fill indentation in each cookie with scant 1/2 teaspoon jam or jelly. Transfer cookies to racks and cool completely. (Can be made 2 days ahead. Store between sheets of waxed paper in airtight container at room temperature. Cookies will soften slightly.)