It must be a slow news week as I've been honoured with a Thinking Blogger Award by Freya and Paul of Writing at the Kitchen Table. I make them think? Really? I think this is one of those cases where they're laughing at me, not with me. Or more accurately, thinking at me, not with me. I can only assume that the reason I make them think is that I'm a psychological study for them and I make them think things like: What on earth goes through this girl's head? Why would she subject 30 people to making a disaster of a crepe cake? What causes her to become randomly obsessed with people (Dorie, Ruhlman) or ingredients, (bacon, sugar)? Does she suffer from any as yet unlabeled mental deficiencies like Hotsugarophobia or Scatterbrainitus? I'm a case study alright! Whatever Paul and Freya's reason for choosing me as a Thinking Blogger, I thank them. I'll try to hold up my end of the bargin. Do maple meringues make you think? They make me think of tastiness. Mmmm maple. And look at that top photo, the meringues are like clouds in that clear blue sky. Ooooh look at me, I just used a simile. Before I get too carried away, here's a recipe for my maple clouds followed by a list of 5 bloggers who make me think.
Maple Meringues
3 egg whites
2/3 cup sugar
¼ tsp maple extract
Beat egg whites until foamy. Continue to beat while gradually adding sugar. Beat until whites are stiff but not dry, add maple extract and beat just to combine. Drop by spoonful onto a silpat covered baking sheet. Bake for 45min in a preheated oven at 200F, then turn off the oven but leave the meringues in for another hour. Remove from the oven and transfer to a cooling rack.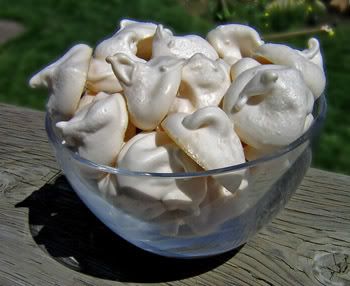 5 Bloggers Who Make Me Think
Gattina of Kitchen Unplugged: I never know what I will find when I check into Gattina's blog (everyday) but I know it will be stunning. She most definitely has a way with pastry, bread and pasta and is always willing to share her tips and tricks to help me succeed.
Danielle of Habeas Brulee: Not only does she use a variety of ingredients, (like urfa-biber) make amazingly tasty goodies (like chewy maple cookies) and write wonderful posts, (the counter top story is gold) but manages to do all of this and open a solo law practice at the same time! Amazing.
Bea of La Tartine Gourmande: Bea has a beautiful eye for photography which makes me want to improve my own shabby skills and become a quarter as good as she is. Oh, and her recipes are phenomenal.
Dorie (the one and only) Greenspan: Of course I had to include Dorie on this list. Her book Baking: From My Home to Yours has become my baking bible and I was absolutely thrilled when she started blogging. Now I get a weekly dose of Dorie's writing and it's always something new, be it a bike ride in Paris or a lunch at Bouchon Bakery, I love it all.
Rob of Hungry in Hogtown: Every single one of Rob's posts makes me think. His enthusiasm for undertaking recipes that are difficult, unusual or from the El Bulli cookbook is always impressive. And he's not afraid to cause some controversy! I like that!
Winners, now you get nominate 5 Blogs that make you think. Should you choose to participate, please make sure you pass this list of rules to the blogs you are tagging.
1. If, and only if, you get tagged, write a post with links to 5 blogs that make you think,
2. Link to this post so that people can easily find the exact origin of the meme,
3. Optional: Proudly display the 'Thinking Blogger Award' with a link to the post that you wrote.
Technorati Tags:
Meme + Meringues + Maple + Thinking Blogger