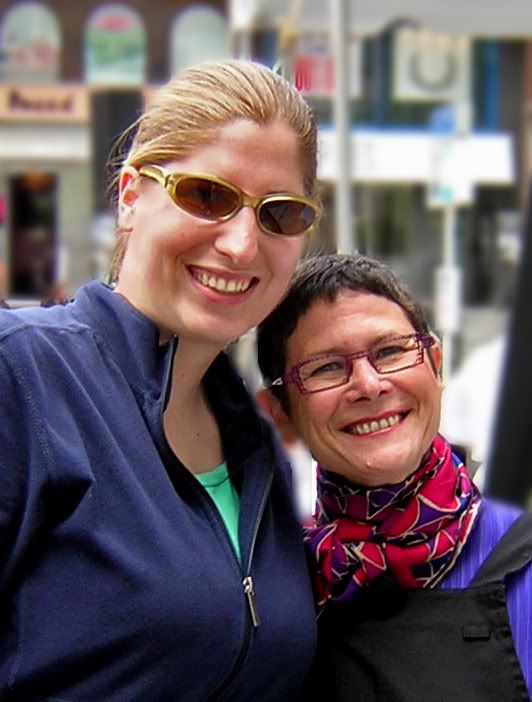 "Did that really happen yesterday or did I dream it?" That was what I asked Mom when I woke up this morning. You see, yesterday I drove to Toronto to see Dorie Greenspan demonstrate how to make the World Peace cookies and Rum Drenched Vanilla Cakes from her book Baking: From My Home to Yours at the Bon Appetit and Santé Wine Festival. I had contacted Dorie earlier in the week to tell her that I was coming and that I would love to say hi to her either before or after the demonstration.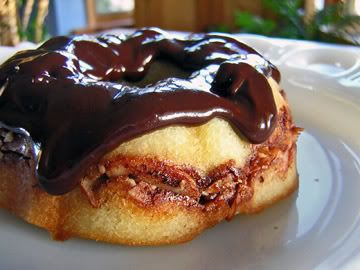 I arrived at Yorkville about half an hour before the demo and saw Dorie immediately. She may be tiny, but she's quite a presence. She was standing under a white tent, wearing a beautiful scarf and the most wonderful glasses, chatting with someone from Bon Appetit. I approached somewhat nervously and waited a few feet away for them to finish their conversation as I didn't want to interrupt. Dorie glanced my way and I caught her eye, she smiled at me and said "Are you Brilynn?" (and pronounced my name correctly on the first try I might add, it doesn't happen too often).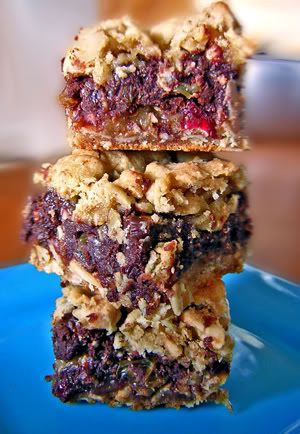 I said that I was and she promptly threw her arms around me in a most welcoming hug. Any nervousness that I had disappeared immediately and I felt as though we had been friends for years. The next thing that Dorie said to me was that I was much taller than she had anticipated. Dorie had imagined that I would look like her: petite with short dark hair as if we could have been sisters. The thought thrilled me to no end.
As we talked, we walked over to the table where her ingredients for the demo lay waiting. She wanted to check and make sure that nothing was missing before she began. She commented on what a lovely shade of yellow the butter was as she pinched off a little corner to taste and encouraged me to do the same.
It was as though the voice that I had read and loved in books had come to life right before me. Dorie speaks the same way that she writes; with warmth and enthusiasm and an obvious passion for what she does. I had to pinch myself a few times to make sure the whole experience was real. It was after tasting the butter that Dorie realized it was supposed to be melted for the vanilla cake. This was a problem as the demo was outside and without any traditional way to heat up the butter. A large heating lamp became an improvised stove top, albeit a very tall one.
Think quickly: how many people does it take to melt butter? The answer is four. One to suggest using the heating lamp as a stove, one to fetch a suitable bowl for the task, one to hold a chair steady and one to stand on the chair with the bowl of butter held above his head on top of the heat lamp. It may have looked somewhat ridiculous, but it worked, (pictured below with Dorie snapping a shot of the event).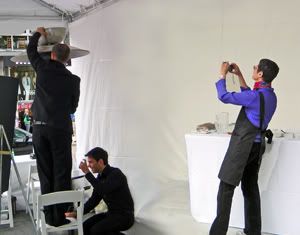 Dorie then had her microphone hooked up and I took a seat to wait for the demo to begin. I listened raptly as Dorie spoke about how relaxing it can be to rub vanilla and sugar between your fingers and described mixing batter as being hypnotic. I was all too happy to indulge in the samples of the World Peace cookies and Rum Drenched Vanilla cakes that were being passed around. In no time at all, an hour had passed and the demonstration was over.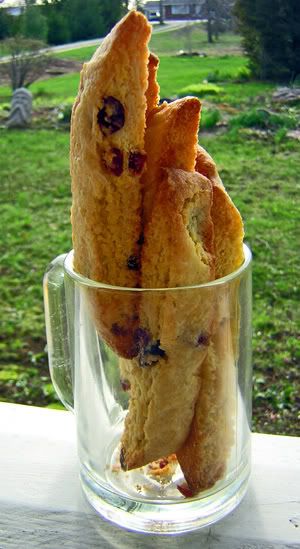 Dorie then took the time to sign copies of her book and I waited to speak with her, hoping to be able to steal a couple more minutes of her time before she was off to another engagement. Imagine my surprise and delight when she finished her book signing and came over to invite myself and my Mom to come out to lunch with her.
Minutes later we were being whisked away for an unforgettable meal at the Jamie Kennedy Wine Bar which has an emphasis on using fresh, local products. We shared all of the plates and so were able to sample a little bit of everything, including but not limited to: a charcuterie plate of house-made pâté and cured meats, (pictured below) sheep's milk ricotta gnocchi with asparagus and wild leeks, scallops and black Alaskan cod, (pictured below).
Given that this was a wine bar, pairings were suggested with each dish, we didn't sample all of them but I particularly enjoyed the 2005 Zahel "Nussberg Grande Reserve" which was a mysterious mixture of grapes. Had this of been lunch with any other company I would continue to ramble on for paragraphs on end about how incredible the food was, but this was no ordinary company, this was Dorie Greenspan.
For three hours we discussed all sorts of things, from books to blogs to whether or not it was possible to bbq rhubarb, (I'm planning on doing this shortly and will report back on the outcome). The whole experience was completely surreal. The conversation flowed naturally and there was no awkwardness at all. I could have listened to Dorie's wonderful stories for hours.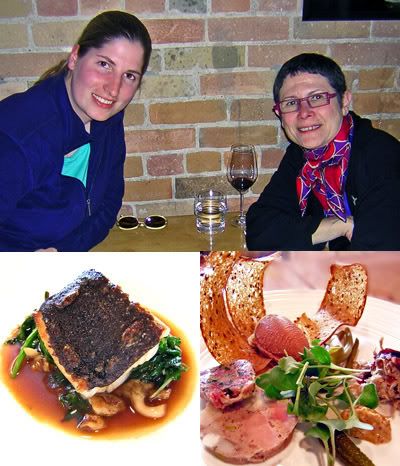 I repeatedly found myself sitting on the edge of my chair as though I had been drawn towards Dorie by her tales of living in Paris, working with Julia Child or being on the Martha Stewart show. She speaks with such genuineness and openness, I couldn't believe that this was someone I had only just met. If I thought Dorie was amazing before, that was only the tip of the iceberg.
I have a huge amount of admiration and respect for this woman, so to meet her and then spend an afternoon with her and to discover that she's even more loveable in person than I thought possible, was an unforgettable and inspirational experience. So thank you very very much Dorie, you have no idea how much I enjoyed spending time with you!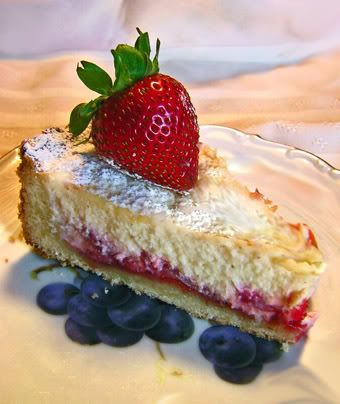 As for the rest of you, expect to see a whole lot more of Dorie's dishes appearing here in the near future. Thanks to Sara of Ms. Adventures in Italy and an Amazon.ca gift certificate that she gave me I was able to add Paris Sweets to my cookbook collection. I can never buy only one item from Amazon though so I topped up my order to receive free shipping by buying the Café Boulud Cookbook as well. I can't wait to give them a try!
In the mean time, enjoy the pictures of some more of the delicious recipes I've made from Baking: bundt cake with a chocolate nutty swirl, chocolate oatmeal almost cookie bars, honey scones, marshmallows, (my first successful marshmallow making attempt!) lennox biscotti, brown sugar bundt cake, (with raspberries) mango bread, french chocolate brownies, oatmeal breakfast bread and hidden berry cheesecake.
Technorati Tags:
Dorie Greenspan + Baking + Cake + Brownies + Marshmallows + Bread + Biscotti