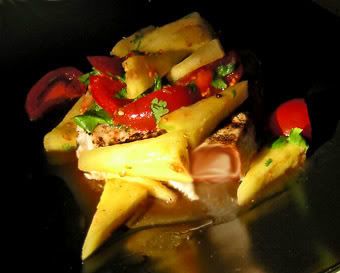 I used to play competitive basketball. Something that I heard from all of my coaches was that our team had to play to the best of our ability regardless of what the other team was doing. This was especially true when going into a game that we knew we should easily win. Sometimes when our opponent was a weaker team we'd find ourselves playing down to their level; our passes would be sloppy, we'd be lazy about bringing the ball up the court, we'd take bad shots and make poor decisions. There was no physical reason for this and we should have been the dominant team. The problem was a mental one. We let the other team affect our view on the game and how we were playing. It was like we lost our abilities simply by being around the weaker players, like they were sucking out our energy.
This past week has been like that. I feel like the people around me have sucked out my energy and part of my brain power while they were at it, (whatever there was to take…). As much as I wanted to write something, each time I sat down at my computer, nothing came out. I would stare at the screen but couldn't even begin to compose a post. It was the same thing in the kitchen. I wanted nothing more than to cook and bake but I was just drained. Once again, it was more of a mental thing than a physical thing. I hadn't done anything physically demanding, but I was exhausted. Night after night I couldn't bring myself to put anything together and post about it too. Half way through the week I managed to make some one-bowl brownies but still haven't got around to putting them up. Tonight though, just knowing that the weekend is ahead of me gave me the strength to get back in the kitchen. Dinner was grilled swordfish with a chunky pineapple salsa and pasta and then I attempted butterscotch pudding for dessert. The consistency wasn't right on the pudding so I'll have to work on that one. The fish on the other hand, was thick, hearty and was enhanced by the salsa. Plus, it was done on the bbq so you know it was good. Perhaps what was even better though was that the weather is currently beautiful and the weekend promises to be equally as nice. I've got my fingers crossed that it will stay that way and that we might even see some morels pop up.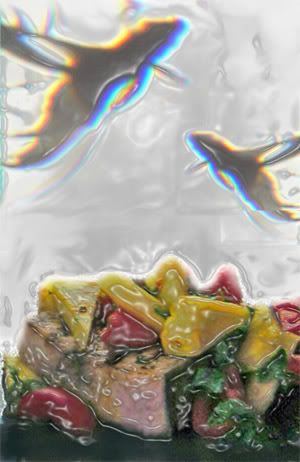 Grilled Swordfish with Chunky Pineapple Salsa
1 large swordfish steak, (about an inch thick)
1 lemon, cut into slices
Juice of half a lemon, (use the other half in the salsa)
1 inch piece of ginger, peeled and grated, (use half in salsa)
A few dashes of soy sauce
Pineapple Salsa
1/3 of a pineapple, peeled and cut into chunks
5 large cherry tomatoes, cut into sixes
A handful of cilantro, chopped
1 tsp liquid honey
Lemon juice
Grated ginger
Salt
Pepper
Dash of paprika
Coat the swordfish with lemon juice, grated ginger and a few dashes of soy sauce. Set aside while you make the salsa. For the salsa, just combine everything in a bowl and mix it up. Heat the bbq and when it's hot, put the slices of lemon onto the grill, creating a bed for the swordfish and then lay it on top. Flip once, halfway through cooking. Place on a plate when finished and cover with salsa.
Technorati Tags: