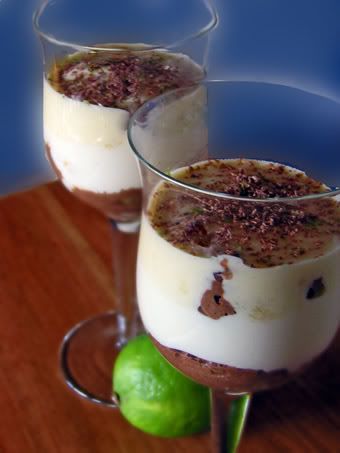 The recipe I used to make these chocolate and lime mousse/mousses/mice was meant to serve six people. I made it today with plans to let it set overnight and then to serve for dessert tomorrow with company. Not too long after I had put the mousse in the fridge, I found out that instead of five people for dinner tomorrow there would be eight. There was no way that mousse for six would feed eight, not with the portion sizes I serve. That meant I would either have to make more mousse or eat the mousse tonight and make something else for tomorrow. Easy decision. Three of us ate all of the mousse and I'll be making a cake for tomorrow. I think it was an excellent choice, the combination of bittersweet chocolate and lime was irresistible. Each of us licked the bottom of our glass clean. No sooner were the glasses gleaming than I started to get comments like "I'd eat that again", "I wish there was more of that". "When are you making this again?", "Are you sure there's none left?". "Mmm, the chocolate and lime was really nice together", "I looove mousse". "I could eat more", "It's a good thing you didn't save these for tomorrow night", "Yup, that sure was good." You'd think I fed an army with the mousse, but no, these comments were coming from two people who just kept going on and on about the mousse. It's too bad for them that I don't like making the same thing twice…
Who knows if I could even recreate the same mousse again anyways? It was a combination of recipes for this month's round of Hay Hay it's Donna Day, hosted by Helene of Tartelette. HHDD was originally started by Barabara of Winos and Foodies and is now in its 11th edition and going strong with mousse as the theme. Yummy, yummy mousse.
Chocolate Mousse (Adapted from Bon Appetit Cookbook)
¼ cup milk
2 egg yolks
2 T sugar
3 oz bittersweet chocolate, chopped
1 teaspoon vanilla
3 large egg whites
Pinch of salt
Whisk milk, egg yolks and 1 T sugar in a heavy saucepan to blend. Stir over med-low heat until mixture thickens enough to coat the back of a spoon. Remove from heat and add chopped chocolate, whisk until smooth. Whisk in vanilla. Transfer mixture to bowl and cool to lukewarm, stirring occasionally, about 10min. Beat egg whites and salt in large bowl until soft peaks form. Gradually add remaining sugar, beating until stiff. Fold whites into cooled chocolate mixture in 3 additions. Cover and refrigerate at least 6 hours.
Lime Mousse (Adapted from Bon Appetit Cookbook)
½ cup sugar
¼ cup water
1 teaspoon vanilla
4 T fresh lime juice, divided
½ teaspoon unflavoured gelatin
1 large egg
½ cup chilled whipping cream
Syrup: Combine sugar and water in a small heavy saucepan. Bring to simmer until sugar dissolves and mixtures thickens slightly, becoming syrupy. Remove from heat, add vanilla and 1 T lime juice, refrigerate.
Mix gelatin and remaining lime juice in a small bowl. Let stand until gelatin softens, about 10min. Heat in microwave on short bursts of heat until gelatin dissolves.
Beat egg in a stainless steel bowl at high speed until egg falls in heavy ribbons when beaters are lifted. Gradually beat in the lime juice and gelatin as well as 3T syrup mixture. Place bowl over a pot of simmering water and beat until temp reaches 140F on instant read thermometer, about 5 minutes. Place bowl over a larger bowl of ice and whisk until cool.
Beat whipping cream until peaks form, add in 1 T syrup and combine. Fold the whipped cream into the egg-lime mixture. Cover mousse and refrigerate at least 6 hours.
To serve: Layer the two mousses into glasses. If you have leftover lime syrup, pour it on top. Zest some lime peel and grate extra chocolate for garnish.
Technorati Tags:
Mousse + HHDD + Hay Hay It's Donna Day + Lime + Chocolate