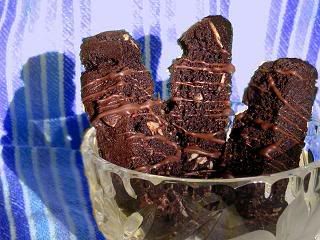 I've been getting hints from Dad lately that he wanted me to make biscotti. Usually he doesn't come right out and say "I want you to make biscotti" which would be the easy thing to do. Instead he'll hint about it in a not very subtle manner. He'll say stuff like "I saw a recipe for biscotti on Foodnetwork today." or "You know what's good? Biscotti." or "I haven't had biscotti in a long time." It's not too hard to see what he's getting at. In general I'm happy to make whatever Dad wants because odds are I'll like it too. Today I finally got around to making the biscotti that Dad has been talking about. When a magazine was left on top of my computer, open to a biscotti recipe, I knew it was time. This particular recipe was from a Longo's magazine and was called "My Mother's Chocolate Almond Biscotti".
I didn't really see any reason to change the recipe at all, except that I only had a ¼ cup of almonds when the recipe called for ½ cup. While looking for more almonds I found some candied ginger and dried cherries and decided those were better than almonds anyways. I did half the recipe as it was written, and the other half I changed slightly. Or at least that was my plan. The recipe called for 2 tsp of baking powder and ½ teaspoon of baking soda. I stupidly reversed those amounts, clearly not on purpose, I just can't read, sometimes I think I'm dyslexic. I didn't like the effect of the switch on the outcome of the biscotti. No one else seemed to notice, but I thought they had a bit of a baking soda taste to them. Ew. The chocolate drizzled on top helped to cover that up though. I also decided I liked my ginger cherry version better than the original chocolate almond. But I didn't love either of them. The reason for this may be that I've come to the conclusion I don't overly enjoy biscotti in general. It pains me to say that. The problem isn't so much the taste, (at least not when I follow the recipe) but the texture. I know biscotti is supposed to be crunchy and that's why people like it, but I don't think I like how hard it is. I find biscotti is more likeable when it's been dipped in hot chocolate or cappuccino, and has lost its crunch. I guess that's not really biscotti though. Complete aside- my spellchecker has been trying to fix some of my sentences because it was saying biscotti should have been in the singular form. I didn't know that it was in the plural form, and quite frankly, I didn't believe my spellchecker. So I looked it up on dictionary.com and apparently biscotti is the plural of biscotto. Biscotto??? Who knew?
Chocolate Almond Biscotti
(adapted from Longo's recipe for "My Mother's Chocolate Almond Biscotti, with proper amounts of baking powder and soda)
½ cup butter, softened
½ cup sugar
2 eggs
1 T vanilla
½ cup unsweetened cocoa
1 ½ cups all purpose flour
2 t baking powder
½ t baking soda
Pinch of salt
Handful of chocolate chips
¼ cup slivered almonds, toasted
Chopped candied ginger and dried cherries, combined to equal about ¼ cup
Bittersweet chocolate, melted
Beat butter and sugar until fluffy. Beat in eggs one at a time and vanilla. Beat in cocoa, 1 cup of the flour, baking powder, baking soda and salt. Stir in remaining flour. Bring dough together with hands. Divide the dough in two. In one half of the dough mix in chocolate chips and almonds, in the other half mix in ginger and cherries.
With floured hands, shape into 2 logs about 12 inches long and 2 inches wide. Place on parchment paper (or silpat) on a baking sheet. Flatten into a rectangle shape.
Bake at 350°F for ~20min or until firm. Let cool on racks for 15min and then slice diagonally into ½ inch slices. Place on baking sheet cut side down and return to oven at 300°F for an additional 20min or until crisp. I then just turned off the oven and left them inside for about an hour.
Let cool completely and then drizzle melted chocolate on top.
Technorati Tags:
Food
+
Biscotti
+
Baking
+
Chocolate
+
Almonds
+
Recipe