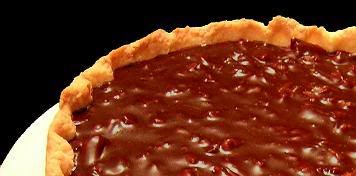 October's issue of Bon Appetit is their 50th anniversary issue. It's basically a look back at some of the hottest trends over the years, with new recipes that are updated versions of the classics, categorized by decade. Tonight's tart takes us back to the 70's, the decade when people were encouraged to buy local, seasonal produce, when Asian and Latin flavours started to appear on restaurant menus and when a young chef named Wolfgang Puck started building his empire. Of course what would the 70's be without a little decadence? And so, Bon Appetit was inspired by a popular Wolfgang Puck dessert to create the recipe for Chocolate, Caramel and Walnut Tart. I was thusly inspired to change it to a Chocolate, Caramel and Pecan tart, but that is surprisingly the only substitution I made. I followed the rest of the recipe to a T.
It's funny, when you actually follow a recipe correctly, it turns out pretty well. I seem to have trouble accepting this. The only problem that I had was with making the filling and my problem can be easily avoided if you heed the following advice: Don't try to boil fresh pressed grape juice at the same time that you make the filling. It's as simple as that.
I had picked a bushel basket of grapes yesterday and Dad pressed them today so that I could turn them into grape jelly and juice. He came into the house with the pressed grapes just as I was getting ready to make the filling and passed it on to me to finish. I placed the grape juice in a pot on the stove to boil. On another burner I placed a large pot for my tart filling and boiled sugar and water together until it reached, as started in the recipe, a dark amber colour. At this point you're supposed to remove the pot from the heat and add in the cream. It was also at this point that my grape juice really started to boil. Up and up and up the sides of the pot it went. I was completely oblivious to this as I was concentrating on deciding when my sugar and water mixture had reached the proper shade of amber. Don't turn your eyes away from boiling fruit for a second! That's what's I should have been telling myself. Instead, I was removing my dark amber mixture and adding in the cream. Suddenly, my attention was very much focused on the grapes as I watched in horror as they boiled well over the top of the pot and spread over almost the entire stove. As soon as the juice hit the hot elements it bubbled up and burned, smoke started filling the kitchen and sparks flew off of the burner. The smoke alarm began to blare. BEEP BEEP BEEP! Yes, I KNOW that there's smoke, thank you very much, would you please shut up now? I shoved the juice off the burner, turned off all the elements, waved a towel in the general direction of the smoke detector and desperately attempted to whisk the cream and dark amber mixture. This whisking wasn't going so well. My whisk had welded itself to the bottom of the pot via a huge chunk of solidifying caramel. This was not in the recipe. By this time Mom had wandered into the kitchen and was wondering why I was making so much noise. I'm sure I had a fairly pained look on my face and Mom took over the grape juice disaster so that I could focus on the lump of caramel that was supposed to be smooth.
As much as I was trying to follow the recipe exactly, I had to deviate here to fix the caramel problem. For a while I thought I would have to throw it out and start over. The huge lump of toffee was quite hard and was stubbornly refusing to come off my whisk. I heated it up and whisked away until I finally had a smooth caramel, (with maybe only a little bit still stuck on the bottom). After that everything was just super. I had to do some serious rearranging in the fridge to make the tart fit so that it could chill, but that wasn't hard for a tetris pro like myself. Finally, a few hours later and without seconds of dinner (I had to save plenty of room) my chilled tart of 70's decadence was ready and delicious.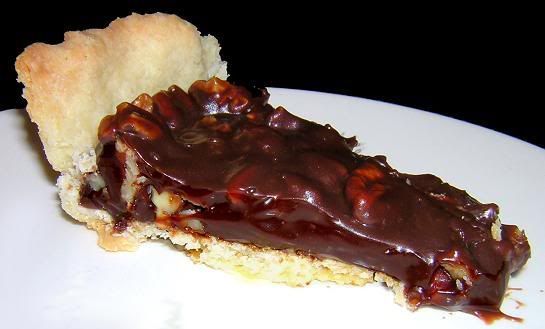 The recipe is unfortunately not up on the website yet, so I'm actually typing it out for you, but be warned- this tart is sinfully good, sinfully.
Chocolate, Caramel and Walnut Tart (Bon Appetit, October 2006)
Crust
1 ½ cups all purpose flour
¼ teaspoon salt
½ cup chilled, unsalted butter, cut into ½ inch cubes
4 tablespoons (or more) ice water
Filling
1 cup sugar (preferably superfine)
¼ cup water
1 cup heavy whipping cream
¼ cup unsalted butter, room temperature
2 tablespoons honey
2 teaspoons vanilla
2 ounces chopped bittersweet chocolate (not unsweetened- I used 70% dark chocolate)
2 ounces chopped semisweet chocolate
2 ½ cups toasted pecans, cut into ½ inch pieces (I used pecans and decreased it to 2 cups and could have probably decreased it a little more)
For crust:
Blend flour and salt in processor 5 seconds. Add butter to processor. Using on/off turns, blend until coarse meal forms. Add 4 tablespoons ice water. Blend until dough just begins to come together, adding more ice water by teaspoonfuls if dry. Gather dough; flatten into disk. Wrap; chill at least 1 hour.
Roll out dough on lightly floured surface to 14" round. Transfer dough to 11" diameter tart pan with removable bottom, (mine was only 10"). Cut off all but ½ inch of overhang. Fold overhang in and press, forming double thick sides, (I was a little off here… it happens). Pierce crust all over with fork; chill 30 minutes.
Preheat oven to 400F. Line crust with foil, fill with dried beans or pie weights. Bake 20 minutes. Remove foil and beans. Bake until golden, pressing with back of fork if crust bubbles, about 20 minutes longer, (mine took more than 20min, but that might have been because it was thicker than it was supposed to be). Cool completely.
For Filling:
Stir 1 cup sugar and ¼ cup water in heavy large saucepan over low heat until sugar dissolves, increase heat. Bring to boil, brushing down sides of pan with a wet pastry brush. Boil without stirring until deep amber colour, swirling pan occasionally, about 8 minutes.
Remove from heat, add cream (mixture will bubble). Return pan to low heat, whisk caramel until smooth. Add butter, honey, and vanilla. Whisk until sauce thickens slightly, about 3 minutes.
Remove from heat. Add all chocolate, whisk until smooth. Stir in nuts. Spread in crust. Chill tart until firm, at least 3 hours or overnight.
Technorati Tags:
Baking
+
Dessert
+
Chocolate
+
Recipe
+
Bon Appetit