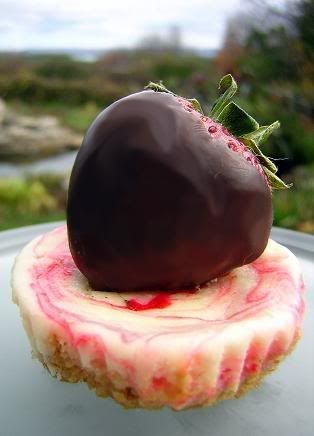 The theme for the 24th Sugar High Friday is Little Bites of Delight and is being hosted by
Cook Sister!
. There are various names for these tiny edibles; petits fours, mignardises or friandises, but no matter what you call them they all taste and look great! When I first heard what the theme was my mind immediately went to France and the white box tied with a ribbon. Each week the sweetest Grandmother ever would bring over a plain white box, tied shut with a shiny white ribbon. It was from the local bakery and filled with the best petit fours I've ever tasted. There were little meringues, florentines, chocolate 'cigars', I can almost taste them. I thought these would be perfect for SHF, but the more I thought about it, the less I wanted to make them. Nothing I could produce would live up to the memory of the petit fours in the white box. And so I abandoned that idea and sort of forgot about SHF for a while.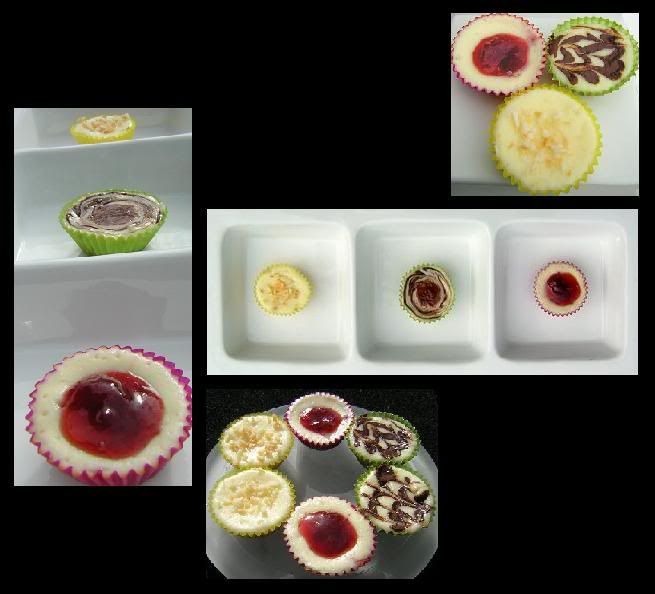 Fast forward to today when I realized that the deadline for SHF is tomorrow, I hadn't made anything and I'm going out of town tonight. I made a quick decision to make some mini cheesecakes. A mini cheesecake pan is still on my 'wish list' so I would have to put them in mini muffin cups. When I opened the cupboard to see if I had any muffins cups I found actual petit fours cups. Where on earth did those come from? I really have no clue, but I was glad they were there, that meant my mini cheesecakes would be more in line with the one bite style of petit fours. Not only did I have authentic petit fours cups, but there happened to be three different colours of cups so I thought I'd make a different kind of cheesecake to go inside each colour. To make things easier on myself all of the cheese cake would have a graham cracker base, (graham cracker, butter, sugar). I started by making plain cheesecake (just cream cheese, eggs, sugar and vanilla) and then separated it into 3 bowls where I added chocolate, strawberry jam and toasted coconut, respectively. I ended up making some of the cheesecakes in mini muffins cups as well because I needed something big enough to hold my chocolate dipped strawberries. Chocolate dipped strawberries make everything better. And there you have my cheesecake petit fours, little bites of delicious for Sugar High Friday.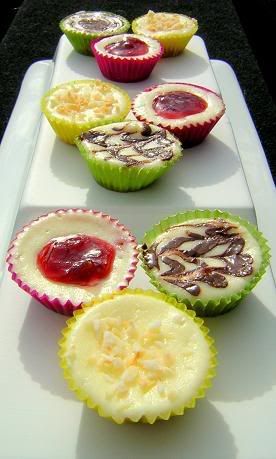 Technorati Tags:
Baking
+
Dessert
+
Cheesecake
+
SHF24
+
Chocolate
+
Blogging Event