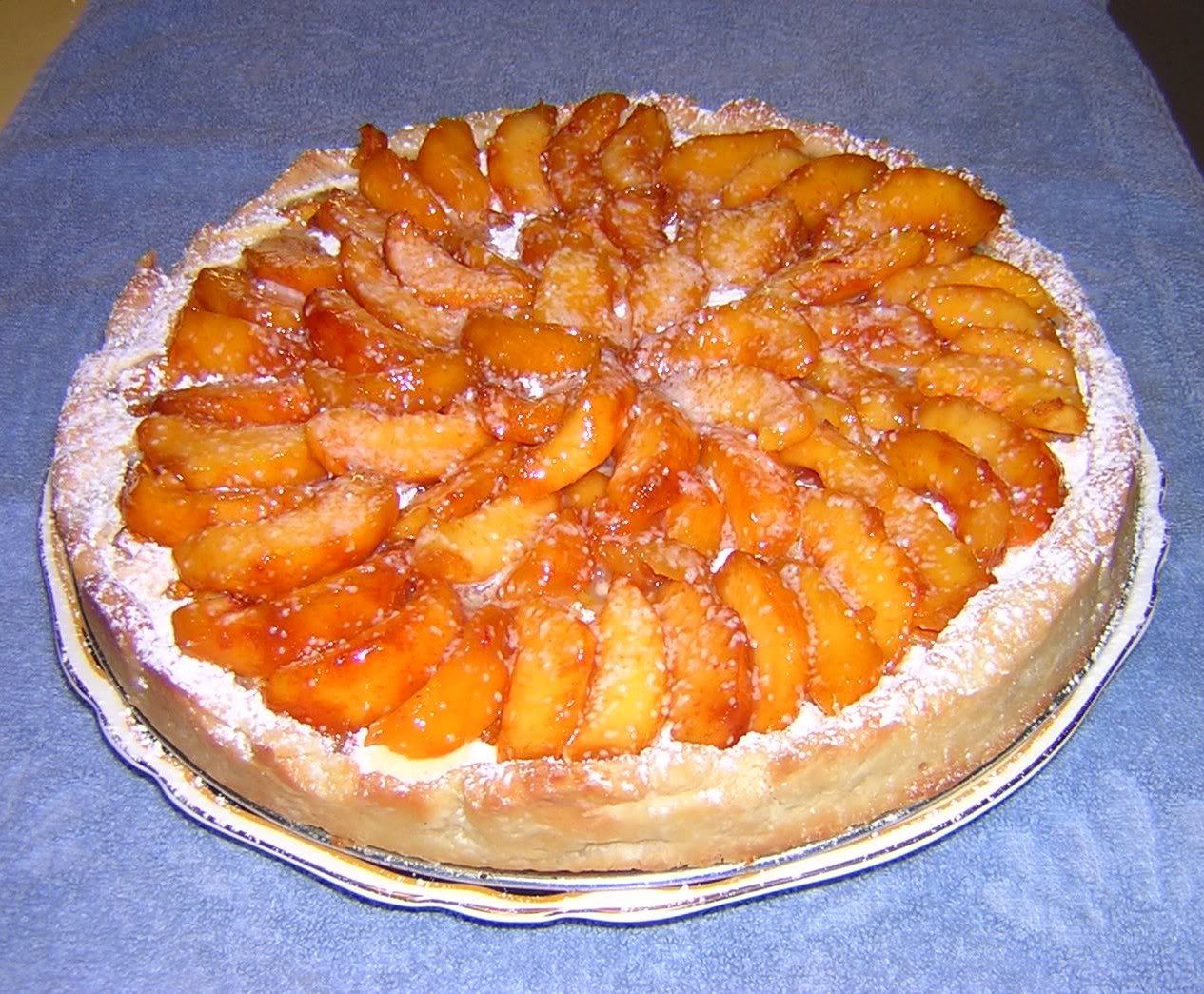 Sometimes I really look forward to making a recipe I've seen and develop a certain image in my head about how it should taste and how it should look. The problem with this is that what I make does not always turn out like the image in my head. Even when the results are edible and other people seem to enjoy it, if it doesn't turn out as planned I'm still disappointed. This was the unfortunate case when I decided to make a tart from a recipe I had seen in Ruth Reichl's book Growing Up At the Table. The tart was called an Oléron Berry Tart, after the French island that it was created on and was originally made with raspberries. The description in the book was so good that I had no choice but to make this tart. Raspberries were no longer in season here though, and I had a tree full of small, but ripe peaches in the backyard so I decided peaches were an acceptable substitute. The tart was a fairly time consuming process as I had to first make the pate sucrée and let it rest 3 hours in the fridge. I then had to make the almond custard and peel a whole punch of peaches. I think the custard is where things started to go wrong. I ground the almonds in the food processor but I couldn't get a fine enough grind. I should have used the coffee grinder to turn the almonds into a powder, but I didn't and I think the end result turned out grainy because of this. The dough was simple enough and I think it turned out well, but it also contributed to my less than perfect tart. I had to blind bake the crust first, let it cool and then put the custard and peaches in. I didn't let the crust cool completely so when I put the custard in it became runny and never fully recovered. I put the tart back in the oven to finish baking and when I took it out, it looked pretty, so I had high hopes, maybe it would be alright after all. After letting it cool (sufficiently this time, but the damage had already been done) and topping it with additional peaches and a sprinkling of icing sugar I cut into it, ready to sample this amazing tart. As soon as I had removed the first piece I knew the tart had not been a success. It was runny and messy and the custard had not set. My disappointment increased after I took my first bite, the roughly processed almonds created a grainy texture. Sigh. For those who didn't know the tart was coming and who hadn't read Ruth Reichl's description, it was apparently nice enough for seconds, this was only slightly comforting. I'm confident however that this tart has potential and once I get up the courage I plan on making it again. Next time I will grind the almonds to a powder and let the crust cool completely before adding the custard. In other words, I will follow the recipe's instructions. What a novel idea. For anyone else who feels up to the challenge, here's the recipe:
Oléron Berry Tart
Pastry
1 ½ c sifted flour
¼ c sugar
¼ pound butter
2 T cream
1 egg yolk
Combine flour, sugar and butter.
Add in cream and egg yolk, mix lightly and add water if need be to hold it together.
Let dough rest in refrigerator 3 hours.
Remove, roll into tart pan and blind bake for 20min at 350F, remove foil and bake 4-5 min further. Let cool.
Filling
¾ c blanched almonds
¾ c sugar
3 T soft butter
3 egg yolks
1 tsp vanilla
4 c raspberries
Combine almonds and 3 T sugar in food processor to a fine powder.
Cream butter with remaining sugar, add yolks until smooth, add almond mixture and vanilla.
Spread this into the tart shell and add 2 c of raspberries on top.
Sprinkle with 2 tsp sugar.
Bake at 350F for 40 min, cool for 2 hours and then cover with remaining berries.
Glaze if you'd like or dust with icing sugar.
You will notice that making the tart will leave you with 4 leftover egg whites. I wasn't about to let these go to waste so I had to find something else to make. I've been on a bread baking kick lately. I love kneading the dough and I love the smell of fresh baked bread. So I went on a search do find a bread recipe that required egg whites. I came across one for an Italian loaf that required 2 egg whites and I set about making it. After the bread had its first rise Dad asked if I wanted to go sailing. But what about my bread? Sailing won. I punched the dough down, covered it again and left for the marina. Upon my return a few hours later my bread had about quadrupled in size and was threatening to leave the bowl I had left it in. This was interesting. I shaped it into a loaf, let it rise again, (this did not take much time, it was already huge) and threw it in the oven. It turned out light and fluffy so maybe the extra rising time was good for it.
The bread only used up 2 of the 4 leftover egg whites, so with the other 2 I made black and white coconut macaroons. I did half a batch with just some vanilla and nutmeg and the other half with cocoa. I like the way the two look plated together.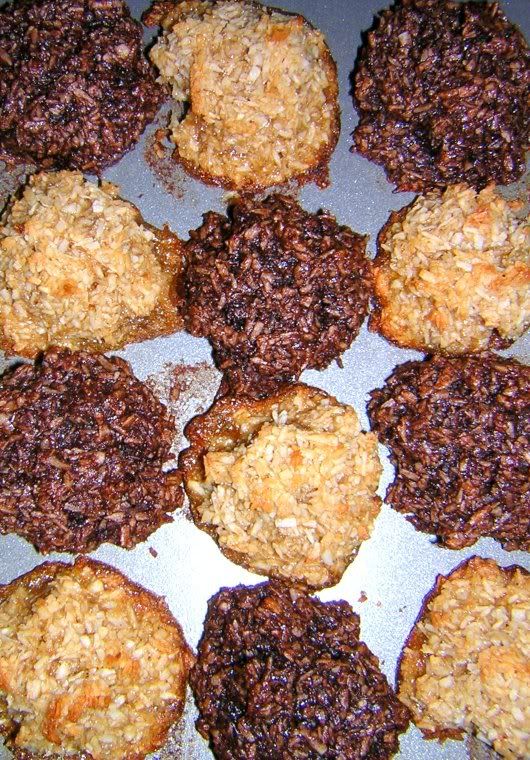 After making the bread and macaroons and sailing, I wanted something easy for dinner. I had leftover ravioli in the freezer from the last time I made them, as well as a basket full of ripe tomatoes from the garden, begging to be used. I quartered the tomatoes and an onion and threw them in a pan to roast in the oven along with some garlic. When they were done I emptied the pan into the food processor, added some basil and thyme, white wine and stock and blended it all together. Presto- soup/sauce for my ravioli and an easy dinner after a busy day.