glut•ton –noun
1. a person who eats and drinks excessively or voraciously.
2. a person with a remarkably great desire or capacity for something: a glutton for work; a glutton for punishment.
3. Brilynn of Jumbo Empanadas.
[Origin: 1175–1225; ME glutun < OF glouton < L gluttōn- (s. of gluttō), var. of glūtō glutton, akin to glūtīre to gulp down ]
—Synonyms: gourmand; gastronome; chowhound.
If you go check the dictionary this is precisely what you will find. And it's no surprise considering what I had for breakfast. I've been meaning to make crepes for a while now. There's a place in Toronto on Queen St. which makes crepes right in the front window of the shop and every time I walked by the smell of crepes would overwhelm me, compelling me to enter. Somehow I always managed to resist, (shocking, I know) telling myself that I could make my own crepes and not charge myself an arm to do so. Well, I finally got around to making them on my own and if it took this long I figured they might as well be decadent cause who knows how long it could be before I made them again? That's why not only was I making them all for me, but I was also going to slather them with mass quantities of nutella, drape gobs of fruit sauce on top and then drizzle maple syrup, (ie- dump the bottle) gracefully over the plate. I was tempted to add whipped cream, but there wasn't any in the fridge, curses.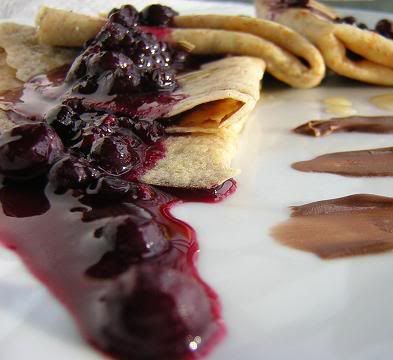 The 7 deadly sins are so much more interesting than the 7 contrary virtues, so go ahead; listen to the devil on your shoulder, be a glutton.
Whole Wheat Crepes
Scant cup buttermilk
1/3 cup whole wheat flour, (you can taste this, so if you don't like whole wheat, use all purpose)
1 egg
1 T butter
1 t sugar
Tiny pinch salt
Blend until smooth. Pour a couple tablespoons at a time into the hot pan and swirl. Cook on med heat, approx 1 min on each side.
Serves 1 glutton.
Sauce
Blueberries and mixed berries
Wild cherry syrup
Maple Syrup
A little cornstarch mixed with cold water
I didn't measure any of this, I just threw it in a pan, boiled it, then simmered it until thick.
Putting it together:
Spread each crepe with nutella. Fold in half, and then in half again. Pour the berry sauce and maple syrup on top.
Technorati Tags:
Food
+
Breakfast
+
Recipe
+
Crepes